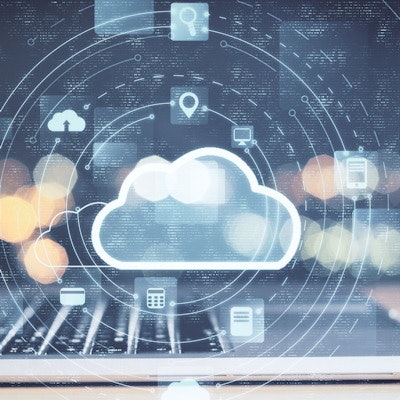 Healthcare organizations are increasingly pursuing an enterprise imaging strategy, driven by factors such as growing volumes of clinical and imaging data and the desire to integrate everything on a single platform. For some, cloud technology has become a key element in the decision-making process.
Cloud technology offers a number of potential advantages to enterprise imaging, from improved disaster recovery to more flexible budgeting to reduced strain on hospital IT staff.
Although the market for cloud-based enterprise imaging is still in the early phases, new options are emerging to get started, from hybrid approaches that combine on-premise data archives with cloud storage to architectures that are totally native to the cloud.
Is radiology PACS showing its age?
When it comes to going digital, radiology has long been the leader within healthcare. Some early adopters of PACS are moving into their third decade of digital operation, and some institutions are on their third or even fourth generation of PACS technology.
But PACS as a radiology-focused architecture is beginning to show its age, in particular as it tends to store imaging data in silos only accessible to radiology. Many forward-thinking healthcare networks now want to push the benefits of digital image management out of the radiology department and across the enterprise.
At the same time, healthcare networks also want to bring under control a proliferation of new nontraditional data formats, such as patient photos, point-of-care ultrasound scans, and more.
"There's no question that this is a big driving force for [enterprise imaging] because there's a tremendous proliferation of images," according to consultant Herman Oosterwijk of OTech.
Momentum is indeed starting to build for comprehensive enterprise imaging, agrees Dr. Cheryl Petersilge, founder and CEO of consulting firm Vidagos Advisors.
Healthcare providers now realize that they should be looking to serve the entire organization when they are replacing their radiology PACS or, in some cases, their cardiology PACS, said Petersilge, a radiologist and former medical director for integrated content and enterprise imaging at the Cleveland Clinic.
"I think this is happening because we have been educating providers [about enterprise imaging] for about as long as a typical PACS placement cycle -- meaning they purchased a PACS seven to10 years ago and are now looking for a replacement," she said. "That is the compelling event. No one is going to go out and replace a perfectly functioning system."
Enterprise imaging is typically adopted in stages or all at once, according to Michael J. Cannavo of consulting firm Image Management Consultants.
"Most PACS that start out as standalone radiology systems expand to integrating a RIS -- if they don't have one already -- and then image sharing, a patient portal, a [vendor-neutral archive], and specific applications software like mammo and orthopedic templating," Cannavo said. "And others elevate a simple PACS to an enterprise imaging system."
New flexibility in the cloud
Once a health network has decided to adopt enterprise imaging, then what? In the past, implementation was largely on-premises, with servers and archives physically located within hospital buildings themselves -- with all the headaches that such an architecture entails.
But cloud technology offers new flexibility, enabling an institution to offload data management to an offsite data warehouse that's either maintained by the health network by a third party.
The biggest advantage of the cloud is the ability to use operating budget dollars for a software-as-a-service (SaaS) model, as compared with capital funds for an on-premises installation, Cannavo noted.
"The cloud also has a number of other significant advantages, not the least of these is automated software upgrades -- most sites are at least two versions behind -- the elimination of required support from IT, service costs built into the fee, offsite disaster recovery included, and a host of others," Cannavo said. "The biggest disadvantage is that you have to have a rock-solid wide-area network connection with a backup and maybe even a small-scale on-premises solution as well for those inevitable downtimes."
With the reduction in the number of IT full-time equivalent (FTE) positions, anything that will reduce the workload on IT is welcome, though, he said.
"Cloud models are being embraced for that reason," Cannavo said.
The acceptance of cloud is definitely growing, Petersilge noted.
"While two to three years ago most organizations would not have considered any cloud computing or storage, they are now looking to see what advantages the cloud has to offer," she said. "In step with this change is the change from purchasing PACS to subscription-based contracts."
Is enterprise cloud right for you?
The shift to the cloud for enterprise imaging has been somewhat limited to date due to the significant investment made by many U.S. health systems in their own data centers and IT infrastructure for adopting electronic health records, said Steve Holloway of Signify Research. Consequently, large integrated delivery networks and big academic institutions are tending to stick to on-premises enterprise imaging implementations at the moment.
But the cloud could be a good choice right now for smaller imaging facilities.
"Community hospitals, outpatient imaging centers, and radiology groups can probably use the cloud more quickly," Holloway said.
Some institutions are starting to move toward a hybrid approach -- using a private cloud or a public cloud provider as a means of long-term archiving and disaster recovery, he said.
In addition, the "halfway-house" approach, in which an enterprise imaging vendor will also manage data hosting instead of a public cloud company, is seeing some activity, Holloway said.
The hybrid model of an onsite archive with a secondary archive in the cloud is a great way to get started with cloud services, according to Petersilge.
"With many of the EMRs [electronic medical records] going to the cloud, I think that will help pave the way for the cloud in imaging," she said.
Most enterprise imaging vendors today are offering at least some form of a cloud-based option, such as remote hosting of archives or in so-called cloud-native systems that feature thin-client software and hosted archives.
Public cloud
Cloud solutions available to date from public cloud vendors -- Amazon, Google, and Microsoft are the major players -- also haven't progressed to the point of being economical for accommodating the high imaging volume and access requirements needed for a truly cloud-based enterprise imaging approach, Holloway said. Using a fee-for-access model can be quite costly if images are being accessed all the time.
"That's why the long-term archive approach has worked so far, as you're probably not accessing it a lot," he said. "The more traditional model of public cloud in terms of financing and how it works -- the business model -- hasn't really been applied well to imaging so far."
Privacy and patient data ownership are other issues that institutions need to be aware of when working with public cloud providers, Holloway noted.
"There are still ongoing concerns by providers in terms of releasing data to public cloud providers," he said.
Different stakeholders also may have different perspectives on cloud technology for enterprise imaging, Oosterwijk added.
"IT guys love it, clinicians are probably in between," and patients, in general, may be a little bit concerned about the privacy of their data, he said.
Issues to consider
High bandwidth and redundant wide-area network options are the two biggest technical issues to be taken into consideration when contemplating a cloud-based enterprise imaging model, according to Cannavo.
"You also need to have a strong business associates agreement (BAA) in place to cover the facility in the event of a data breach," he said.
Other issues to address include the following:
Mutual agreement on which party owns clinical data
Who pays for migrating data to another vendor's platform when the contract term expires
How the data get turned over at the end of the contract period.
The need to ensure 100% availability of images may lead many big hospitals toward pursuing hybrid implementations, with at least some local caching of data, Oosterwijk said.
Enterprise imaging's future
In the near-term outlook for enterprise imaging, enterprise radiology will continue to mature, enabling consolidation of disparate PACS and creation of a diagnostic platform, Holloway said. There will also be activity around caseload balancing across healthcare enterprises and embedding of operational workflow tools, he added.
There's also a lot of focus on image-enabling the EMR and achieving a more holistic, longitudinal patient record, Holloway said.
"In the next year or two as well, we'll start to see more creeping into more '-ologies,' " he said.
Key areas include integrating point-of-care ultrasound and incorporating automated breast ultrasound and digital breast tomosynthesis into a common screening record. Efforts to create a master imaging record also will be present, according to Holloway.
Migrating to the cloud
In-house systems will increasingly be migrated to the cloud, especially with the need to migrate to Windows Server 2019 from the no-longer-supported Windows Server 2008, Cannavo said.
"This is especially important as most existing [Windows Server 2008]-based systems also need a full hardware refresh as well," he said.
As healthcare institutions move to enterprise imaging, the cloud is emerging as an option to be considered.
"Personally, I do not think the cloud will accelerate [enterprise imaging] adoption," Petersilge said. "I do think, as organizations are more open to a comprehensive [enterprise imaging] program, they will explore what cloud has to offer."