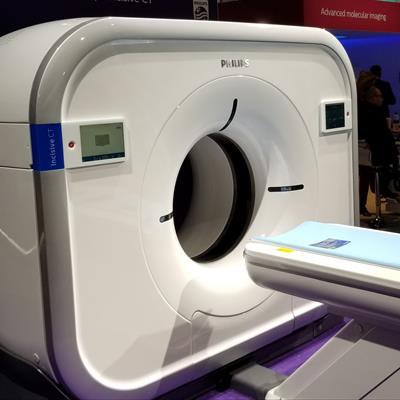 CHICAGO - Philips Healthcare is putting a major emphasis on artificial intelligence (AI) in its booth at RSNA 2019, showing technology designed to improve workflow and help customers choose from a range of AI algorithms to analyze medical images.
AI
Reflecting its focus on integrating radiology AI technology into the imaging workflow, Philips is shining the spotlight on its work-in-progress IntelliSpace AI Workflow Suite at its booth this year. The AI Workflow Suite features a set of applications for integration and centralized workflow management of AI algorithms, according to the vendor.
The AI Workflow Suite integrates into existing hospital and departmental infrastructure to automatically orchestrate the routing of clinical data to the appropriate AI application, enabling algorithms to analyze data without requiring user interaction, according to the vendor. The suite then automatically displays the results for the users; structured results are delivered where they're needed in the enterprise, Philips said.
Notably, the suite is designed to support training of site-specific AI applications based on local data. Although it will integrate natively with Philips imaging systems and informatics software, AI Workflow Suite will also work with imaging equipment from other vendors, Philips said.
The suite will also include a marketplace of apps for users to choose from. So far, Philips has signed on algorithm developers Aidoc, MaxQ AI, Quibim, Riverain Technologies, and Zebra Medical Vision as initial partners for the AI Workflow Suite. The marketplace will initially focus on algorithms for radiology applications, but Philips would also like to expand it in the future to cardiology, pathology, and other areas, according to the company.
Philips plans to release AI Workflow Suite in the first quarter of 2020. Leiden University Medical Center in the Netherlands has recently inked an agreement to become the first to install the platform.
Imaging informatics
Philips is emphasizing a new version of its enterprise imaging platform. The next-generation offering, which includes the Clinical Collaboration Platform acquired by Philips' purchase of Carestream Health's healthcare IT business in August, features a suite of integrated products that employ AI and analytics techniques to support enterprise imaging and precision diagnostics, according to the vendor.
Its diagnostic patient management application orchestrates and streamlines patient interactions before and after procedures. In addition, it provides automated scheduling, patient results tracking, automatic delivery of urgent studies to the most qualified radiologists, and advanced reporting functionality, Philips said.
The new enterprise imaging platform includes a vendor-neutral, zero-footprint enterprise viewer, as well as a web portal for patient access. Also, the company's Forcare Interoperability technology enables systems, departments, and other stakeholders to communicate with each other and exchange data, Philips said.
What's more, the platform includes packages for radiology, cardiology, neurology, pathology, oncology, and breast imaging, along with advanced visualization and quantification software. Interactive multimedia reporting capability is also available.
The platform's Enterprise Operational Informatics suite includes a range of applications that provide insight into operations and performance across modalities, as well as clinical analytics. It also includes a clinical repository that features a vendor-neutral archive and life-cycle management capabilities. An acquisition portal also enables images to be captured across departments, modalities, and file formats, Philips said.
Notably, the enterprise imaging system also includes the firm's IntelliSpace AI Workflow Suite, which is also being unveiled at RSNA 2019 (see above). Philips plans to release the next-generation enterprise imaging system in the first quarter of 2020.
In other imaging informatics developments, the company is touting its recent certification to provide strategic assessment and guidance using the HIMSS Analytics Digital Imaging Adoption Model (DIAM). In addition, Philips said it has signed on to the Sequoia Project's CareQuality technology interoperability initiative.
MRI
In the MRI section of Philips' booth, major highlights include the 1 millionth patient scanned with the company's Compressed SENSE protocol, as well as the vendor's fully sealed magnet technology on the Ambition 1.5-tesla scanner.
Compressed SENSE is a scan acceleration protocol that enables users to perform more scans in the same amount of time. At RSNA 2019, Philips is highlighting data that show some customers have saved as much as $500,000 in total costs using the protocol.
Philips is also discussing how Compressed SENSE can be combined with its SmartWorkflow technology, which guides patient setup and automates scans, enabling technologists to start scanning with the push of a single button. Patient setup can be completed in less than one minute, bringing users closer to the goal of a fully automated MRI exam.
The Ambition scanner uses Philips' BlueSeal fully sealed magnet technology and requires no helium refills -- an important advantage considering the global shortage of helium. With no quench pipe and a lighter scanner weight, the system has lower installation costs and can be placed in locations that previously were problematic for MRI, such as the upper floors of hospital buildings.
Finally, Philips is highlighting its MRI in-bore Ambient Experience, designed to keep patients entertained during MRI scans and reduce the need for repeat exams.
CT
In CT, Philips is demonstrating the Incisive CT scanner the company launched at the European Congress of Radiology (ECR) earlier in the year.
Incisive comes in two configurations: one model with 2-cm detector width and one with 4-cm detector width. It is available in 32-, 64-, and 128-slice configurations. The scanner includes the company's Tube for Life guarantee, in which Philips will replace the x-ray tube of any Incisive CT scanner at no additional cost. The company estimates that the guarantee will save users $400,000 over the life of the scanner in tube replacement costs.
Incisive CT also includes several other features, such as Philips' DoseWise Portal radiation dose management software, iDose4 algorithm for reducing image artifacts, and metal artifact reduction for large orthopedic implants (O-MAR). Incisive is shipping in the U.S.
For the IQon spectral CT scanner, Philips is discussing how spectral imaging can reduce follow-up time and time to diagnosis. The company is highlighting results from a study at Aarhus University in Denmark, where researchers used spectral imaging to detect occult cancer.
Philips is also launching the CT 5000 Ingenuity scanner platform, available in 64- and 128-slice configurations, as well as CT 6000 iCT, a 256-slice scanner. Both systems include recent cybersecurity updates to better protect patient data.
In artificial intelligence, Philips has been working with AI algorithm developer MaxQ AI to integrate that company's algorithms into Philips' CT platforms. AI results will be returned to users through Philips' PACS workstations.
Ultrasound
In ultrasound, Philips is giving Epiq Elite its RSNA debut. Introduced in February, the premium ultrasound family features a range of diagnostic ultrasound capabilities geared toward specific medical specialties, according to the vendor.
Philips is also featuring what the vendor calls its Ultimate Ultrasound Solution for Vascular Assessment. Utilizing the firm's XL14-3 xMatrix linear-array transducer, this vascular assessment package combines 3D and 4D imaging, a simplified workflow, and complementary clinical tools for assessing and monitoring vascular disease, according to Philips.
Philips is also showcasing its Collaboration Live software as a work-in-progress. Currently pending U.S. Food and Drug Administration (FDA) 510(k) clearance, Collaboration Live is designed to support peer-to-peer connections, enabling screen sharing to provide remote consultation, collaboration, and training, according to the vendor. When it receives clearance, Collaboration Live will be available with the company's premium ultrasound systems.
Image-guided treatment
Philips is highlighting its Azurion with FlexArm package, which is designed to simplify imaging across the whole patient in both 2D and 3D. With Azurion with FlexArm, the image beam automatically stays aligned with the patient as the clinician moves the system, allowing clinicians to achieve more consistent visualization and to retain their focus on the treatment, according to the firm.
Philips is also celebrating a milestone with the Azurion image-guided platform. First introduced in February 2017, Azurion has now been used to treat more than 1 million patients, according to the vendor. In addition, the company is discussing the launch of a multicenter clinical trial that will assess the impact of a Direct to Angio Suite workflow on stroke patient outcomes. Azurion will be the primary platform used in the trial.
X-ray
In the x-ray section of its booth, Philips is highlighting the DigitalDiagnost C90 ceiling-mounted digital radiography (DR) system that was launched at RSNA 2018. The system received FDA clearance in 2019.
C90 sports a tube head with a touchscreen display designed to improve workflow and efficiency. The display shows images acquired with a live camera mounted on the tube head to help technologists with patient positioning. Early users of the system are reporting sharply higher patient throughput with the system, according to Philips.
For the company's MobileDiagnost mobile x-ray systems, Philips is rolling out a version 2.2 software update that gives users the same version of the Eleva user interface found on C90. The update includes features such as an encrypted hard drive and target deviation index (TDI) to help technologists determine if they have set the right x-ray exposure.
Molecular imaging
In molecular imaging, Philips is featuring the Vereos PET/CT scanner, which began shipping in 2017. A new feature on Vereos is personalized apps that enable the reconstruction of sharper images.
The company is also demonstrating absolute blood flow measurement on Vereos, as well as a half-dose imaging protocol in which image quality is as good as in a scan with a full dose of radiopharmaceutical.
Philips is also reprising its demonstration of a radiopharmaceutical uptake room for patients to wait in after they are injected with radiotracer and before the scan begins. The room includes a cushy chair and a video screen with nature scenes and soothing music. Studies have shown that lowering patient anxiety can reduce the need for repeat scans by up to 70%, according to the company.
Other news
Philips said it's also on track to meet its 2018 pledge to take back and repurpose all of the large medical imaging equipment that customers wish to return by 2020. The vendor is actively pursuing trade-ins of MRI, CT, ultrasound, and interventional and diagnostic x-ray systems.
All traded-in equipment will be repurposed or recycled in a responsible manner, according to Philips. An important aspect of this initiative is the company's Diamond Select refurbished systems program, the company said.