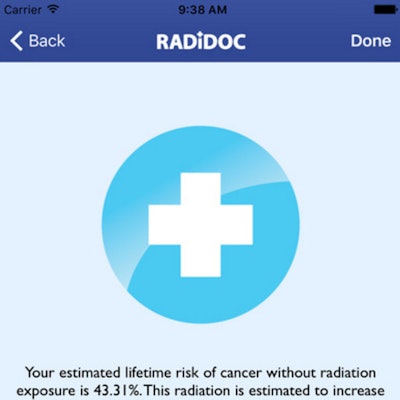 AuntMinnie.com presents the next article in an ongoing series highlighting notable mobile apps in radiology. In this installment, we take a look at RADiDOC, an iOS app designed to serve as a personal radiation safety digital assistant.
Suitable for use by patients, clinicians, and even radiologists, RADiDOC provides radiation dose estimates for imaging procedures, cumulative patient dose tracking, and education about radiation dose concepts. To learn more about RADiDOC, we chatted recently with Dr. Kevin Seals, a radiology resident who developed the app in collaboration with colleagues at the University of California, Los Angeles (UCLA).
AuntMinnie: What inspired you to create this app? What problem does it help solve?
Seals: It's fitting that I would be discussing the app with AuntMinnie, as the fundamental idea for the app came to me while I was reading an article on your website. I have had a passion for programming since I did my undergraduate work in bioengineering, and I happened to stumble across this article shortly after learning iOS programming in my spare time after work.
The article suggested that patients want more information about the risks associated with radiation and medical imaging, that clinicians lack the expertise needed to clearly explain that risk, and that Internet-based materials need to be created to address this issue and help patients and clinicians. This felt like a great opportunity for an app.
Further, I had experienced these issues firsthand during my intern year in internal medicine. Patients, especially cancer patients undergoing extensive repeated imaging, commonly have questions about radiation risk. This is particularly true given the attention these issues have received in the popular media in recent years.
I quickly learned, however, that clinicians generally lack expertise in this area and cannot comfortably discuss these issues in a meaningful, accurate way. I wanted to create an app that explains radiation risk in the simplest and most intuitive way possible while also offering a high level of quantitative detail and medical accuracy.
Who is the target audience, and how do you envision the app will be used?
The application has a few distinct core audiences. First, it is simple enough to be used by patients directly. A patient who is concerned about radiation exposure can rapidly look up essentially any imaging study or image-guided procedure and learn about the associated risk. A report is created that expresses radiation intuitively, such as expressing radiation dose in terms of the number of transatlantic flights needed to have an equivalent radiation dose.
A chest x-ray, for example, is about the same as flying from New York to London three times. Patients can also log their cumulative radiation exposure over time to develop an understanding of their lifetime radiation exposure and the associated risk.
The second audience is clinicians who lack formal education in radiology. Any physician ordering an imaging study may receive questions about the associated risk, and data suggest that their radiation safety knowledge is often inadequate. The app provides a rapid way of explaining radiation dose and associated risk to patients in a quantitative, evidence-based way.
In many cases, we believe this information will alleviate fear about radiation exposure as a patient learns, for example, that exposure in certain cases is equivalent to only days or months of natural radiation from the sun. And, should the patient believe the dose is too high, the application will facilitate a process of informed consent and evidence-based discussion of risk levels and alternative imaging modalities.
Finally, the application will be useful to radiologists. Although radiologists have significant training in radiation physics and radiation safety, it is essentially impossible to remember the quantitative risk levels of the 100-plus studies available in the app and how they vary with patient age and gender. Using the app, radiologists will be able to more quantitatively and accurately express risk levels for their patients, and do so in a simple, intuitive way people can understand.
What are the app's most important features?
The first feature is Consultation Mode, which describes the radiation exposure of a single study to the user. It's like having a virtual consultation with a radiation safety expert. The user inputs age, gender, and the imaging study of interest, and a report is generated that explains the associated radiation exposure in a simple way. The radiation level is first expressed in terms of the American College of Radiology (ACR) dose level, which describes the dose as being minimal, low, medium, or high.
Radiation dose is then expressed in terms of the equivalent number of transatlantic flights and the equivalent number of days of natural radiation exposure from the sun. A chest x-ray, for example, has a low dose level according to the American College of Radiology and is equivalent to approximately 12 days of natural radiation exposure. Finally, the user's age and gender are used in conjunction with the characteristic effective dose of the study to calculate the approximate associated cancer risk.
The next feature is Log Mode, which allows patients to track their radiation exposure over time. The user can use this mode to log their radiation exposure over time and determine how this radiation dose in aggregate will influence their level of cancer risk. This is similar to a "vaccination log" for radiation that represents a longitudinal catalogue of radiation exposure. This mode may be of particular interest to cancer patients receiving many repeated serial imaging studies, such as serial PET/CT scans for cancer staging.
Finally, there is Radiation 101 Mode, which offers learning modules to teach patients about fundamental radiation safety concepts. This material was written by radiologists and focuses on simplicity and clarity. We hope that this material will allow laypeople to develop a foundation of understanding in key radiation physics and radiation safety issues.
How many users do you have currently?
The app is currently owned by UCLA, and due to this I don't have access to our current number of users. I can say, however, that we have received highly favorable feedback from radiologists and clinicians at UCLA and other affiliated institutions in Los Angeles. The app seems to be of particular interests to pediatricians, as children are at higher risk of complications from radiation and parents tend to be very concerned about these issues and focused on understanding radiation risk. Of note, the app automatically provides pediatric-specific dose levels if a pediatric patient age is provided.
What are your future plans for the app? Are there any new features or content in the works? Do you plan to develop a version for Android?
The app will naturally evolve with time as new radiation safety literature becomes available. The radiation dose data are currently derived from numerous peer-reviewed academic publications, and as new data become available, radiation dose levels will be modified as appropriate and doses for new imaging studies will be added and integrated into the application.
We are also very interested in performing research to better understand the impact of the application on patients and clinicians. The AuntMinnie article I referenced above discusses how patients are curious about their radiation exposure and suggests that there is a need for Internet-based references about medical imaging to improve patient understanding. We are interested in performing research to explore how access to resources such as RADiDOC influences patient beliefs about radiation exposure, their willingness to undergo medical imaging, and their level of satisfaction with the medical experience. In short, a next step will be performing research to quantify the impact and utility of the application.
Regarding Android, we would love to do this and it is a major goal. I have received numerous emails from faculty and staff at my institution about this issue, and I think it is one of the most important focuses for the future of the app. Currently, I have done all of the programming myself, but I lack expertise in Android programming. In the future I will either learn Android programming or find a partner to collaborate with to create this version.
RADiDOC can be downloaded for free from the iTunes Store.