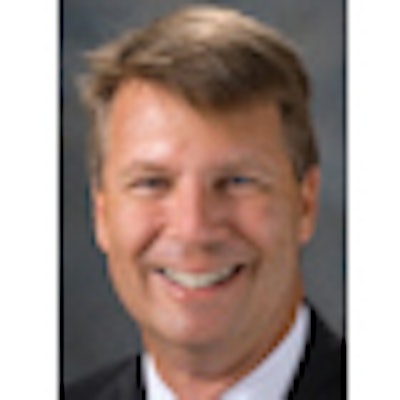 Imagine multimedia structured reporting software that captures key images from an exam as a report is being dictated, tags them by anatomy and pathology, and links them to anatomical sites and prior relevant exams residing in a PACS -- all of this occurring automatically without affecting a radiologist's workflow.
This software, named ViSion, is being developed at MD Anderson Cancer Center's Imaging Processing and Visualization Laboratory in Houston, where prototypes are also being used in several clinical trials. It's the brainchild of Dr. David Vining, professor of diagnostic radiology and the lab's medical director.
Vining has been a pioneer in radiology. He invented virtual colonoscopy (also known as CT colonography) and the first software enabling a fly-through of the colon in 1993. He was also the driving force behind PointDx, a developer of one of the first commercially available structured reporting systems, which was bought by IDX Systems in 2004.
A new venture
Vining talked about the capabilities of ViSion during several scientific and poster sessions at the RSNA 2011 annual meeting. AuntMinnie.com caught up with him demonstrating the software concept at the RSNA Lakeside Learning Center.
"ViSion is analogous to being the Facebook of medicine with respect to capturing, tagging, and managing image data," Vining said. "It has the ability to provide a comprehensive single view of a patient's entire radiographic history, plus related imaging-based information, such as pathology, endoscopy, and medical photography, that is linked by both anatomy and pathology terminology."
The software works on any PACS or 3D workstation that uses a Microsoft operating system; it runs as a client-server arrangement that operates in parallel with any vendor's imaging software running on a Microsoft Windows platform.
"It specifically has been designed to be agnostic," Vining emphasized. "ViSion integrates with no one but interfaces with everyone," he said.
The ultimate objective is that as long as ViSion can access imaging information, it can utilize the information to create links and display them in an easy-to-understand, easy-to-navigate multimedia single screen display.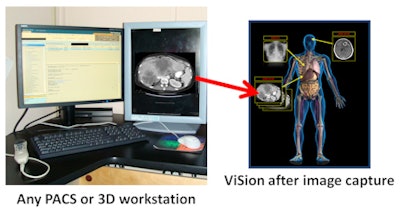 All images courtesy of Dr. David Vining.
It is Vining's hope that using ViSion to create a radiology report will fit into a radiologist's natural workflow of "viewing" and "speaking" about image findings. In its current prototype version, a radiologist opens an exam and begins to dictate. When the radiologist sees a key finding, he or she clicks a button on a speech microphone and then talks about the finding. This captures the image and the subsequent voice clip.
Data are transmitted to the server for processing, which associates metadata from the voice description with key images to create an image finding. Each finding is tagged with just two words -- anatomy and pathology ­­ in the report database. The ViSion report comprises discrete image findings accompanied by narrative descriptions of those findings.
"ViSion creates a unique style of radiology report in that it portrays the most recent image findings regardless of modality that are specific to anatomy," he explained. "Images are composited on a graphic of a patient so that a radiologist can see the entire radiographic history in a single view. If a finding is linked to prior studies in the ViSion database, by clicking on an icon, a disease timeline over the entire history of the disease can be displayed."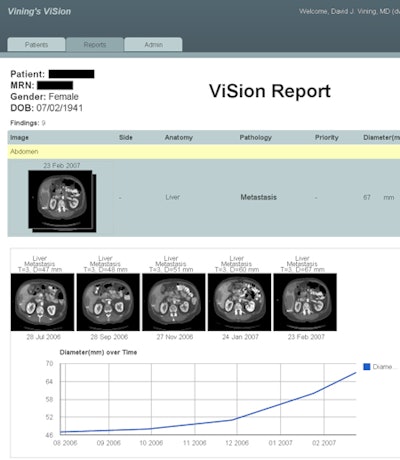 By linking related exams and the data they contain, ViSion tracks the growth of a tumor over time.
Additional potential benefits planned for ViSion include data mining of radiologic information, automatic translation of reports using standardized lexicons, and audit trails of any modifications made to prior findings. Vining said that future integration of ViSion with DICOM Structured Report and other industry standards should improve its interoperability with electronic medical records.
Measuring tumor response
In a clinical trial under way at MD Anderson, Vining described the use of ViSion to automate Response Evaluation Criteria in Solid Tumors (RECIST) calculations that are used to assess a patient's response to cancer treatments.
RECIST 1.1 is a set of published rules to provide uniform measurement of target lesions and follow their course over treatment. Tumors are measured by their longest diameter, and lymph nodes are measured by their short axis.
Applying RECIST is challenging because radiologists often fail to accurately report target lesions, of which up to five may be designated. They also fail to record tumor measurements in PACS, or fail to compare serial exams. Even if radiologists do remember to compare serial exams, the process may be time-consuming and disruptive to workflow. It is necessary to identify the relevant exams, open them to obtain tumor measurements, and then compare the measurement on the current exam with those that preceded it.
Vining discussed one pilot analysis that he conducted of baseline and subsequent radiology reports of 10 patients with advanced cancer in a phase I clinical trial. The objective of the study was to determine whether radiologists reported tumor measurements and saved these as overlays in PACS. Furthermore, if they did, the researchers wanted to find out what percentage correlated the tumor metrics between the two exams in their radiology reports.
In 90% of the cases, radiologists reported the tumor measurements. However, they saved their measurements in only 20% of the baseline exams and in only half of the follow-up studies on PACS. Only 40% correlated tumor metrics between the baseline and subsequent exam.
"ViSion can improve upon this as long as the tumor measurement is made," Vining explained. "The application of the ViSion reporting method enables a means to record consistent tumor measurements in 100% of cases. It provides a visual record of where target lesions were previously measured, facilitates the linking of image findings between serial exams, and displays the linked findings in graphical disease timelines."
The system provides a means for more reproducible correlation of serial imaging studies during an entire course of a tumor's response assessment. By using multimedia structured reporting in clinical practice, the accuracy of tumor measurements may increase, enabling a cancer treatment team to optimize the therapeutic management of patients with cancer, he said.
Adding eye tracking
Vining described the work at MD Anderson's Image Processing and Visualization Laboratory with eye tracking in an RSNA 2011 scientific session. The hope is that an algorithm can be developed in which eye-tracking technology eliminates the need for key, button, and mouse clicks when using the ViSion system.
Over the past four years, a number of patents have been awarded associating eye-tracking technology with radiology reports. One of these was based on the concept that the longer a radiologist looked at a point of interest, the higher the clinical relevance of that finding. Vining disagreed with that concept, commenting that visual perception fixation may indicate liking something, disliking something, finding something of interest, or recognizing something. It could also be the first sign of falling asleep. Relevance is a hopeful assumption, he observed.
Efforts are under way to develop software that will use eye tracking and natural language processing to improve the efficiency of radiology reporting. Research has produced mixed results. Vining described one experiment in which two radiologists were asked to look at a chest x-ray. The first task was to identify and describe a lung lesion; the second task was to look at and describe the heart. An eye-tracking device followed and recorded the gaze point of the radiologist looking at a display monitor of a diagnostic workstation.
The first radiologist did exactly as told. The lung lesion and the heart were the bull's-eyes of overlapping gaze points. The gaze of the second radiologist roamed the chest x-ray, going in circles, pausing on many items. This and other simple experiments have convinced the researchers of the need to add sophisticated filters to filter out "random noise," and of the need to train radiologists in behavior modification to make it viable to use eye-tracking software.
"We still need to do a lot of work to understand the relationship of visual gazes and speech," he said. "Training and behavior modification for some will also be needed."
It's Vining's goal that eye-tracking technology will eventually be integrated into the ViSion software, and that ViSion will become radiology's version of Facebook for its patients in the future.