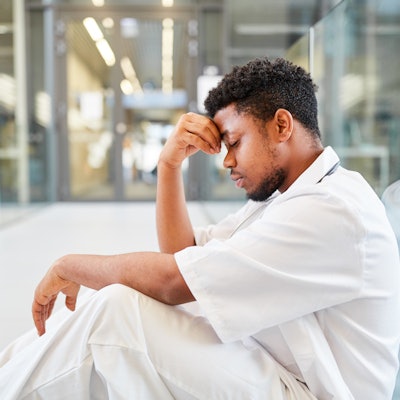 Long before the Covid-19 pandemic hit, burnout numbers among radiologists were already high and rising. Now, with an imaging backlog to work through, including postponed patient screenings, the situation is becoming untenable. The average radiologist may already be facing the prospect of interpreting one image every three to four seconds in an eight-hour workday to meet the workload. There's no way radiologists can keep up.
Artificial intelligence (AI) can help. While many health organizations have deployed AI for computer-assisted care coordination and communication needs, questions over how AI can really improve the diagnostic and care delivery process have many radiology departments skittish to adopt the tool throughout their practices. But AI could support radiologists by reducing workload -- and burnout-- while increasing accuracy and efficiency and, importantly, containing future AI adoption costs.
At the same time, implementing AI support for radiologists could spur broader enterprise-wide AI adoption. That, in turn, could further streamline diagnostic procedures, treatments, and patient interactions throughout hospital networks, prompting more productive collaborations.
Classic burnout conditions
Doctors have long ranked high among professions with the highest burnout rates. These days, those rates have risen, according to the recent Death by 1000 Cuts': Medscape National Physician Burnout & Suicide Report 2021. In the survey, 42% of the doctors reported burnout, with 21% of those saying the symptoms began after the pandemic. Meanwhile, more than one-third of radiologists reported burnout.
That's no surprise. Radiologists are being told to do more and do it faster with less. They're also facing increases in imaging and higher case volumes with greater complexity due to the steady rise in the use of MRI and CT. While improvements have been made in many technologies, such as PACS, they won't make a difference to radiologists' wellbeing, according to an article published in Academic Radiology. These are classic conditions for burnout.
Something must be done. Burnout has serious consequences for both doctors and patients. It can lead to substance abuse, clinical depression, and even thoughts of suicide in physicians. It can result in apathy toward patients and peers, medical errors, and compromising of patient safety, according to one study. Burnout also has consequences for the health system overall because it can result in increased rates of absenteeism, employee turnover, and early retirement.
Consider this: 37% of doctors in the Medscape survey said that spending too much time at work was one of the top two causes of their burnout symptoms. In addition, 42% said more manageable workloads would help tremendously.
Extending a hand
Radiologists have always been early adopters of medical technology. It's clear their workloads could be reduced, at least in part, if hospitals implemented AI systems that could support quality and optimize a physician's workflow. Note that we're talking about interpreting patient images -- the heart of radiological work -- and not tools designed solely to streamline paperwork or administration. But the time, frustration, and cost of incorporating new systems into existing radiology workflows could be keeping truly useful AI out of radiology and other hospital departments.
AI could take over administrative tasks such as intelligent scheduling, tracking follow-ups, and other workflow issues such as patient care coordination. But it can do that and more. It already has emerged in some hospitals as the clinical workhorse in diagnostic imaging, playing a vital role pointing out lung nodules on CT scans and abnormalities on mammograms, as well as offering a second opinion in stroke patients.
Meanwhile, technological advances in radiology are more necessary than ever, as the pandemic has deeply impacted hospital budgets and caused shortages in staff and equipment. These shortages won't likely disappear when the pandemic recedes for good. Around 40% of U.S. hospitals are projected to have negative margins by the end of 2021, according to an American Hospital Association study. That means radiology departments are under tremendous pressure to reduce unnecessary diagnostic imaging and related costs while increasing efficiencies and improving diagnostic consistency.
A win-win
AI also has applications far beyond radiology. It can catalyze efficiencies within emergency rooms, pathology laboratories, and other departments. In addition, AI can make it much easier for those departments to communicate with each other, further cutting time and expense as they share information and insights. Finally, as people across an organization assimilate AI insights into their daily workdays, they generate data that AI uses to improve operations in the future through machine learning and reasoning. The benefits are exponential.
Imagine the possibilities, for example, if genomics, clinical trials, and other aspects of healthcare were marshaled and synergized throughout hospital networks to contribute to better outcomes. For healthcare organizations to combine these various sectors, however, they need interactive platforms that maximize interoperability. The market for healthcare interoperability technology, incidentally, is expected to grow from $2.3 billion in 2019 to more than $4.2 billion in 2024. And it makes sense to start implementing healthcare interoperability technology in radiology because images are a substantial part of patient interactions.
The days when AI can perform diagnoses that are as almost accurate as a doctor's are still in the distant future. Technology won't replace radiologists. But AI is already here creating time-saving efficiencies and synergies in radiology departments, delivering better patient outcomes, and providing support to doctors throughout hospitals to help them do their jobs -- and take care of themselves, too.
Dan McSweeney is president of TeraRecon, an advanced visualization and enterprise AI company for medical imaging.
The comments and observations expressed are those of the author and do not necessarily reflect the opinions of AuntMinnie.com.