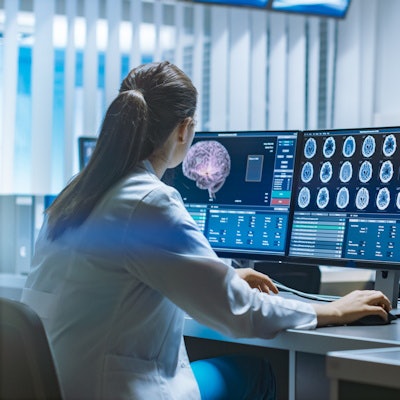 Radiologists read an average of 4.7 subspecialty exams in daily practice, and less than half indicate they are "very confident" in the interpretations, according to a report by practice development firm Medality.
The survey results highlight radiologists' desire for more subspecialty exam interpretation training, Medality said.
"The lack of confidence among cardiac readers is a particularly concerning result given the recent shift in U.S. clinical practice guidelines where CCTA was given multiple class 1, level A recommendations for chest pain," Medality Vice President of Educational Strategy and Operations Deanna Heier, PhD, said in a news release.
The company's 2023 Radiology Practice Development Report was based on surveys of more than 2,700 radiologists in 108 countries. Confidence in reading images emerged as an issue, with radiologists reporting being less confident in the following areas:
Cardiac imaging (41% not confident)
Nuclear medicine (28% not confident)
Pediatric imaging (25% not confident)
Musculoskeletal imaging (23% not confident)
Breast imaging (22% not confident)
Head & Neck imaging (21% not confident)
According to Medality, the report signals the rise of the "multispecialty radiologist" and aligns with earlier findings that showed 55% of radiologists practice in three or more subspecialties and 85% practice in two or more, according to the report.
Among all imaging modalities, radiologists were most interested in learning about MR imaging consistently across all subspecialties (neuroradiology, 97%; musculoskeletal, 95%; genitourinary, 91%; gastrointestinal, 88%; breast, 84%; and cardiac, 81%). The top subspecialty areas that radiologists stated they were most interested in learning about were musculoskeletal and neuroimaging, the report found.
The need for practice development remains a challenge for radiology, where imaging demands are increasing at a faster rate than the workforce can sustain, Medality concluded.