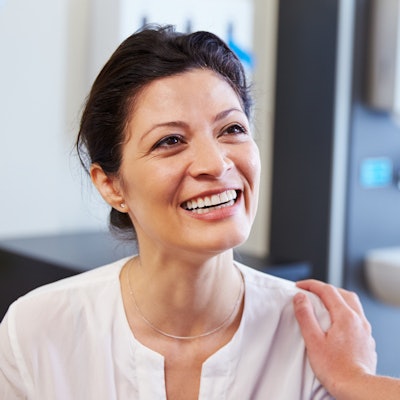 Spanish language-preferring Latinas are more likely to have a mammogram ordered by their primary care provider compared to their non-Hispanic white peers, according to research published August 19 in Preventive Medicine.
They also have higher annual mammogram order rates, which suggests that breast cancer detection barriers in low-income Latinas in the U.S. may not be due to a lack of orders in primary care, but instead to language preference, wrote a team led by John Heintzman, MD, from Oregon Health and Science University in Portland.
"Our findings demonstrate that Spanish-preferring Latinas did not experience a relative disparity to non-Hispanic white women in receiving a mammogram order from a clinician," the group noted.
Latinas in the U.S. have higher mortality from breast cancer, with research suggesting a greater prevalence of cancer diagnosis at later stages than non-Hispanic white women. Previous studies have attempted to uncover potential barriers to screening access for Latinas but have found conflicting evidence when it comes to mammography use and links between mammography use, health literacy, and English language proficiency.
Community health centers provide primary care for "a disproportionate number" of Latinas in the U.S., including many with financial and insurance barriers, the researchers noted. But links between breast cancer screening access and language preference (that is, Spanish vs. English) have not been clear.
Heintzman and colleagues conducted a 10-year longitudinal study of mammography orders by language preference in a multistate network of community health centers that included data from 181,755 women. Of the total, 101,088 were non-Hispanic white women, 57,474 were Spanish-speaking Latinas, and 23,192 were English-speaking Latinas.
The team found that Spanish-speaking Latinas had higher odds of having a mammogram ordered by their primary care provider than non-Hispanic white women (odds ratio, 2.12, with 1 as reference). These women also had a higher rate of annual mammogram orders than their white counterparts (rate ratio, 1.53).
But whether these women are actually screened remains unclear, the authors wrote.
"[Spanish-preferring] Latinas returned frequently to the clinic for care and received repeat mammogram orders, but never or less commonly actually utilized the service, which is performed outside of the community health center," they noted.
The study results add to findings on the relative inequity that low-income, English-preferring Latinas face in healthcare service use, according to Heintzman and colleagues.
"Further, this finding may be associated with the barriers that accompany increasing acculturation or the loss of protective cultural values," they wrote. "Regardless, English-preferring Latinas should be a persistent population of focus for improvements in breast cancer screening."
The full report can be found here.