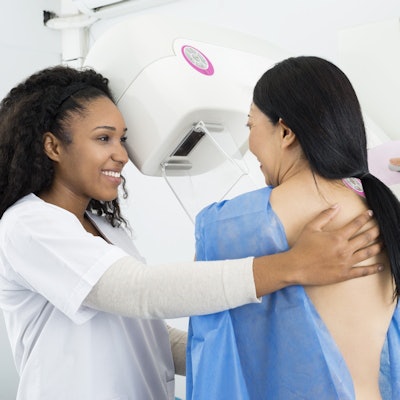 Mammography screening is less likely to be used by women who are part of marginalized groups, who live in rural areas, and with low-income status and education level, research published on January 9 in the European Journal of Radiology has found.
A team led by Matthew Chancellor from Oklahoma State University examined 128 studies published within the past decade. In addition to finding inequities around geographic areas and income, the team found research gaps in terms of healthcare access related to LGBTQ communities and patient sex and gender.
"Due to the importance of mammography in patient care, it is critical to understand the various inequities present and eliminate the current gaps in literature," Chancellor and colleagues wrote.
Previous studies have documented health inequities in women who undergo breast cancer screening. These include differences in breast cancer morbidity between Black and white women, as well as symptomatic presentation among women with lower socioeconomic status.
However, the authors pointed out that despite all the available research, not much is known about the nature of these health inequities. The team sought to evaluate existing data related to health inequities in screening mammography, with the end goal of identifying knowledge gaps that could guide future studies.
The team conducted a review that included 128 studies published between 2011 and 2021. Of the total, studies exploring inequities related to education level (98/128) and income status (86/128) comprised the majority.
The researchers identified the following six health inequity research trends:
Education. Seventy-eight studies reported that women with more education tended to have higher mammography screening rates compared to women with less education.
Income. Seventy-three studies found that women with higher incomes had higher rates of mammography screening compared to women with lower incomes.
Race/ethnicity. Of 80 studies, 24 found that white women were more likely to adhere to mammography screening protocols compared to other racial and ethnic groups, although 16 studies did note positive ties between Black women and screening.
Rural/under-resourced. Of 37 studies that compared mammography screening rates in rural and urban areas, 20 found that larger, urban areas had higher rates of mammography screening compared to smaller, rural areas.
Occupation. Of 28 studies that examined occupational status as a measure of inequity in mammography screening access, 15 indicated that employed women had higher screening rates compared to their unemployed counterparts.
LGBTQ and sex/gender. Six studies evaluated LGBTQ identity, with most finding that there were lower reported screening rates. Some studies showed that transgender patients were more likely to undergo mammography than cisgender patients, and lesbian or gay patients were more likely to undergo breast cancer screening.
The investigators recommended that future research should explore three areas: physician knowledge of LGBTQ breast cancer screening guidelines, tools for health literacy, and culturally appropriate screening models.
"Further research surrounding the use of patient-centered tools in low health literacy populations and its influence of mammography screening is needed," they concluded.