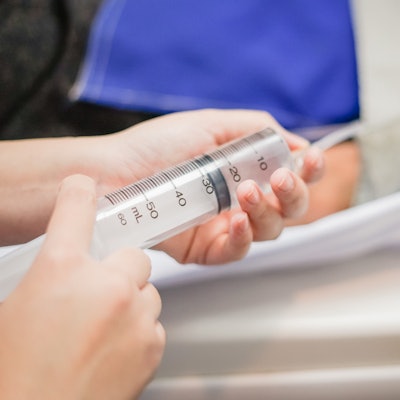 Contrast-enhanced mammography can be used safely for both diagnostic and screening in women with breast implants, according to a study published October 27 in Clinical Imaging.
A team led by Dr. Molly Hogan from the Memorial Sloan Kettering Cancer Center in New York City found that 100% of breast exams using contrast-enhanced mammography were successfully completed, and 99.5% of them had no complications.
"Contrast-enhanced mammography is technically feasible and may serve as a good alternative for those women at increased risk who cannot undergo screening with MRI," Hogan and colleagues wrote.
MRI is the gold standard for supplemental breast cancer screening. However, the investigators noted that MRI is not always readily available and is not always possible in people with pacemakers or those who have high anxiety or claustrophobia.
Contrast-enhanced mammography has gained ground for supplementary breast cancer imaging, but concerns about its use in women with breast implants include a decrease in measurable breast tissue and an increase in overall exam dose. Yet previous research has shown that women in this subgroup don't have significantly different recall or cancer detection rates compared with women with no breast implants.
Hogan et al wanted to explore the feasibility of contrast-enhanced mammography in women with breast implants. They evaluated data from 104 women with implants who underwent 198 contrast-enhanced mammography exams between 2014 and 2020; the exams included routine and implant-displaced low-energy views with contrast-enhanced images of displaced views for all patients. Most of the study participants were referred to additional imaging because they were deemed to be at higher risk of breast cancer rather than because they were experiencing problems with the implants.
Out of the total number of exams, all were successfully completed, and 197 (99.5%) yielded no complications. (During the one exam with complications, the woman experienced mild vasovagal symptoms following the injection of the contrast.)
In their conclusion, Hogan and colleagues called for more research and inclusion of women with breast implants regarding screening practice protocols, noting that this is needed to better understand the utility of contrast-enhanced mammography in these women.