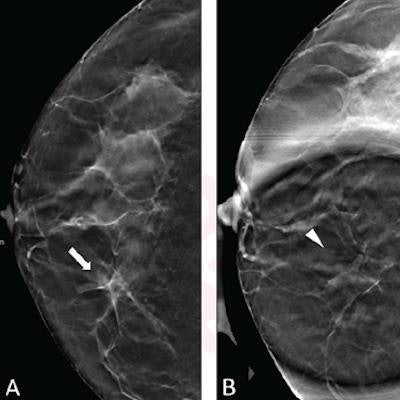 Spot compression viewing with digital breast tomosynthesis (DBT) may reduce further workup of benign findings, though with slightly more radiation dose, according to a study published February 16 in the American Journal of Roentgenology.
A team led by Dr. F. Deleau from Institute Bergonié in Bordeaux, France, found that DBT spot compression improved intrareader and interreader agreement, as well as diagnostic accuracy from better specificity.
"The findings indicate that the DBT spot compression view can be performed in routine clinical practice to improve characterization of subtle or ambiguous findings on DBT," Deleau and colleagues wrote.
While research suggests that DBT and digital mammography are on equal ground when it comes to spot compression viewing of equivocal findings in diagnostic settings, findings may still be indeterminate when it comes to benign asymmetries. Research also suggests that it may still be difficult for spot compression DBT to find differences between subtle architectural distortion and normal breast tissue, especially in women with dense breasts.
The Deleau team wanted to find out the diagnostic impact of using DBT spot compression views to assess equivocal DBT findings by using a recently introduced system that uses a small paddle for breast compression.
"To our knowledge, the diagnostic performance and supplemental dose delivered by this additional view have not been systematically investigated," the study authors wrote.
The researchers looked at data from 102 women with an average age of 60 years. DBT spot compression views were obtained between December 2018 and December 2019. Two fellowship-trained breast radiologists and one breast imaging fellow independently reviewed the exams.
The team found that intrareader agreement increased from 0.43 to 0.72 while interreader agreement increased from 0.21 to 0.45, with 18 total cancers present on the views.
DBT spot compression view vs. standard DBT for equivocal findings
Standard DBT view
Spot compression DBT view
Average accuracy
72.7%
92.7%
Average specificity
70.7%
92.3%
While sensitivity significantly increased sensitivity from 67% to 94% for one reader, such changes were not seen for the two other readers.
"In our clinical experience, mammographic spot compression views may cause false-negative results by causing some cancers to have a less suspicious appearance," the authors wrote. "However, we did not clearly observe such an effect for DBT spot compression views."
Radiation dose used for spot compression viewing, meanwhile, was found to be 1.97 mGy compared with 1.78-1.81 mGy for standard DBT views. However, this is still below the recommended maximum radiation dose.
"Thus, the supplemental dose of the DBT spot compression view should not be a limitation for the view's routine use in clinical settings," the researchers wrote.
Of the 18 cancers detected, two were missed by any of the three readers using DBT spot compression views.
Deleau et al wrote that this view could make small lesions more noticeable and allow for a lesion's morphologic features to be better assessed. This, in turn, helps with the radiologist's confidence in differentiating masses, architectural distortion, and asymmetries.
"For example, the radiologist may have a heightened level of suspicion in the presence of a possible architectural distortion if the finding persists on the DBT spot compression view," they added.