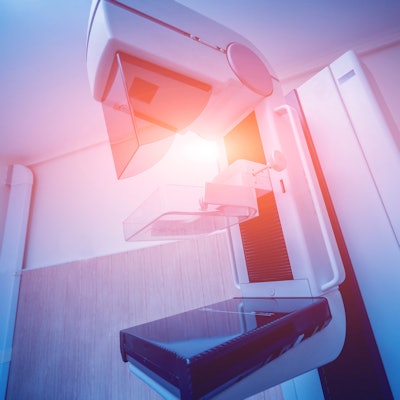 They say music is good for the soul -- and it could also be good for boosting a woman's tolerance of mammography exams, according to research published October 31 in Radiography.
A team led by Debbie Nelson from Tameside and Glossop Integrated Care NHS Foundation Trust in the U.K. found that just five minutes of exposure to music can improve a woman's experience of mammography, translating to less reported pain during mammographic compression.
"[Our study found that] music does reduce the perception of mammographic pain within this participant group," the group noted.
Regularly scheduled mammography screening is important for early detection of breast cancer, which leads to better treatment outcomes. But getting a mammogram can be an uncomfortable experience for some women. A 2013 study found that between 25% and 46% of women cited mammographic pain as the cause for not attending breast screening again.
To address the problem, researchers have been exploring interventions to help with pain decrease and tolerance in mammography settings. Nelson and colleagues wanted to investigate whether the use of music immediately prior to mammography could decrease levels of self-reported pain.
The study included 60 women divided into three groups: those who listened to five minutes of binaural music, those who listened to five minutes of nonbinaural music, and those who had standard care (i.e., no music). (Binaural music is a perception of sound the brain creates when two musical tones with slightly different frequencies are delivered into each individual ear; the brain blends them and creates a tone of its own.) Nelson and colleagues asked participants to use a numerical scale to rate pain during the mammogram.
The investigators found that binaural music was effective for reducing women's reported pain levels and increasing their ability to tolerate more compression force.
Comparison of mean pain levels and compression force between music intervention and standard care
Measure
Standard care
Nonbinaural music
Binaural music
Pain level (based on a 5-point scale)
With intervention
4
3.68
3.25
Without intervention
4.1
4.65
4.08
Compression force (measured in decanewtons, or daN)
With intervention
9.53
9.96
9.58
Without intervention
8.84
9.14
8.55
The use of this type of music intervention with mammography shows promise, according to the authors: In addition to mitigating pain in women who score in the severe pain category and have previously refused to undergo mammography, perhaps they could also be used before and during interventional breast biopsies.
"[Our findings show] that the introduction of music prior to mammography could be a low-risk, low-cost intervention within the hospital setting for certain patients," they concluded.