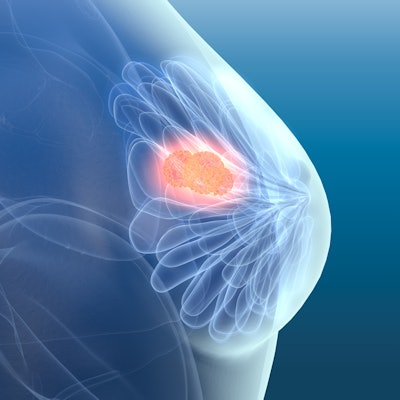 Along with causing a decline in rates of breast screening, the COVID-19 pandemic may have also led to delays in cancer detection, with higher rates of later-stage breast cancers, according to research published February 15 in JAMA Network Open.
A team led by Dr. Jade Zhou from University of California San Diego Health in California found that rates of stage IV breast cancer diagnoses rose between 2019 and 2021, while rates of stage I cancer diagnoses decreased in that same period. The group found no statistically significant change in stages of colon cancer.
"There is increasing concern regarding the effect of the COVID-19 pandemic on cancer mortality, as the evidence suggests that the number of patients presenting at late, incurable stages is increasing," Zhou and colleagues wrote.
The early months of the pandemic in the U.S. and other parts of the world saw the temporary closing of cancer screening facilities. Previous research suggests that screening mammography numbers and breast cancer screening sharply declined as a result. Studies have also shown that timely mammograms over the years have led to breast cancers being detected in earlier, more treatable stages.
The President's Cancer Panel recently released a report that suggests that gaps in screening uptake caused by the pandemic could lead to an excess of cancer-related deaths in years to come.
Zhou's team wanted to compare the incidence of breast and colorectal cancer before and during the pandemic for early and late-stage diagnosis at Moores Cancer Center in La Jolla, CA. They looked at data from 55 men and 467 women with an average age of 58.1 years who had been diagnosed with cancer during the study period.
The number of new patient visits for malignant neoplasms was 1,894 in 2019 and 1,915 in 2020. Overall, there were 605 patients diagnosed with stage I disease in 2019, compared with 556 in 2020, a difference that was not statistically significant (p = 0.05). There was also no statistically significant difference in stage IV diagnoses for all cancers, with 492 patients diagnosed at stage IV in 2019 compared with 506 in 2020 (p = 0.77).
There were also no statistically significant differences in colon cancer rates, either at stage IV (p = 0.1) or stage I (p = 0.78).
However, the researchers did discover statistically significant differences for breast cancer. They found that a lower number of patients presented with stage I breast cancer after the pandemic began, with 138 patients presenting in 2019 versus 116 in 2020 (p = 0.008).
The opposite trend was seen for stage IV breast cancer, with four in 2019 versus 14 in 2020 (p = 0.04). The researchers also found in their data that these trends continued in the first three months of 2021.
Despite being unable to assess causality, the researchers called for patients who have delayed preventive care during the pandemic to resume treatment as soon as possible.
"The COVID-19 pandemic has profoundly influenced how we deliver cancer care," they wrote. "Cancer screening is integral to cancer prevention and control, particularly in colorectal and breast cancers."