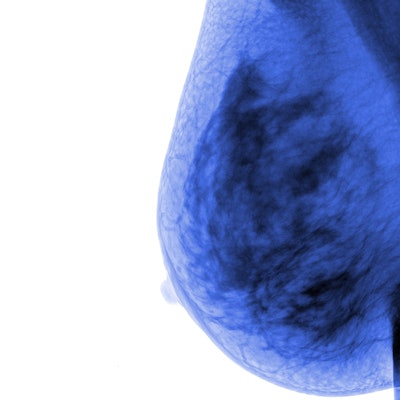 Lower rates of breast screening during the COVID-19 pandemic have led to undiagnosed cancers that could've been detected at an earlier stage, Hungarian researchers found in a study published May 25 in Health Policy.
Researchers led by Péter Elek, PhD, from the Centre for Economic and Regional Studies in Budapest also found that the age cut-off of breast cancer screening influenced partial mastectomy rates.
"In order to avoid the long-term consequences of these developments, policymakers need to make further efforts to reach out to and motivate the target population to catch up on missed screenings by providing both information and incentives," Elek and colleagues wrote.
The pandemic led to disruptions in healthcare, including breast cancer screening and treatment around the world. In Hungary, screening asymptomatic people was suspended as healthcare staff and resources focused on minimizing the risk of SARS-CoV-2 transmission. Delays in diagnostic interventions were also experienced and managing cancer patients became more difficult, the researchers wrote.
Hungary has a single-payer public healthcare system and has employed a national breast cancer screening program since 2002 for women ages 45 to 65 with a two-year screening interval. Prior to the pandemic, the examination rate in this population was between 45% and 60% depending on the age group.
Elek et al wanted to find out the pandemic's impact on patient pathways from breast cancer screening and early diagnosis to treatment.
Looking at national data, the quarterly mammography examination rate before the pandemic was 2,470 per 100,000 women. Breast cancer incidence was 37.4, total mastectomy rate was 13.2, and partial mastectomy rate was 20.2 per 100,000 females.
Examination rates decreased to close to zero in April to May 2020, the height of the pandemic, then gradually increased in June and into the fall months as breast imaging facilities gradually reopened.
The researchers found that the number of mammography exams in the 45- to 65-year-old age group decreased by 71% in the second quarter of 2020, was above its usual level by 11% in the third quarter of 2020, and again reduced by 15% to 35% throughout the fourth quarter of 2020 to the second quarter of 2021.
The group also found that the number of new breast cancer diagnoses and mastectomies was below its usual level by 20% to 30% in the second quarter of 2020, by 12% to 5% in the third quarter of 2020, and by 15% to 25% in the first and second quarters of 2021. The team found no significant differences in the fourth quarter of 2020.
A third finding from the study is that the number of partial mastectomies decreased by 36% in the second quarter of 2020 and by 24% in the third quarter among women ages 61 to 65, but it remained unchanged in these quarters among women ages 66 to 70. In Hungary, the age cutoff of invitation to breast cancer screening is 65.
The study authors wrote that their findings shed light on the effectiveness of breast cancer screening. They added that future research is needed for validation with other long-term outcomes such as survival.
"Specifically, we recommend that policymakers should use these types of evidence for motivating the target population to attend breast cancer screening as it can provide a solid basis for screening related communication activities and raising the awareness among nonattendees," they wrote.
In a response commentary on the U.S. front, Dr. Stamatia Destounis, chair of the American College of Radiology Breast Imaging Commission, told AuntMinnie.com that disruptions to cancer screening delivery during the pandemic will have a long-term impact on cancer care. She added that providers predict later-stage diagnoses and significantly worse outcomes.
"Some practices have compensated for, and recovered from, the reduction of screening during that time," she said. "However, many have not fully recovered to pre-COVID volumes, due to the added time each facility required to disinfect and cleanse their offices and equipment, to social distance in order to make their practices safe for the patients, and the many short staffing issues due to COVID."