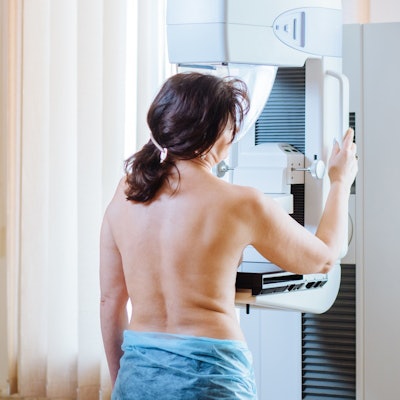 Attendance to breast cancer screening and higher socioeconomic status are linked to better survival in patients with locally advanced, estrogen receptor-positive tumors, according to research published October 29 in JAMA Network Open.
A team led by Timothy Robinson, PhD, from the H. Lee Moffitt Cancer Center in Tampa, FL, found that even after adjusting for clinical and genomic factors, higher mortality rates were found in women whose cancers were detected when they were symptomatic, and in women from zip codes populated by individuals with lower education levels.
"This study serves as proof-of-principle that combining health service, clinical, sociodemographic, and genomic data together with a single population-level cohort is feasible and may offer new insights into disease progression and factors driving adverse outcomes," Robinson and colleagues wrote.
Overall understanding of breast cancer biology has improved over the years, but the extent to which sociocultural and biological factors contribute to breast cancer disparities is still a subject of debate.
Evidence has shown that social drivers of race-based disparities are linked to screening, stage at detection, treatment, and overall survival. The researchers cited other works suggesting poverty is associated with presentation of advanced-stage disease, and increased distance to care is associated with decreased use of adjuvant therapy.
They also pointed out that many features of breast cancer, including hormone receptor status, remain stable over the course of metastatic cancer. This suggests that molecular subtypes reflect different biological entities. Genomic risk scores, meanwhile, have prognostic and predictive capability 10 years after initial treatment, the study authors said.
Robinson et al wanted to show how feasible their approach was in investigating the interaction among health service, demographic, and clinical factors, as well as their association with breast cancer-specific and overall survival after adjusting for genomic factors. They also wanted to look at the association among health service, demographic, and clinical factors with tumor biology and progression.
They looked at tumor specimen blocks from 3,522 women ages 66 to 75 with newly diagnosed nonmetastatic, estrogen receptor-positive invasive breast cancer. The cancers were diagnosed between 1993 and 2007. Out of the total, 1,555 were diagnosed by screening mammography while 1,967 women were experiencing symptoms when their tumors were detected.
Data on residual tumors from Medicare, the Surveillance, Epidemiology, and End Results (SEER) database, and data repositories of the women showed that screening and socioeconomic factors remain associated with breast cancer outcomes, even after adjusting for clinical, demographic, and genomic factors.
The researchers found that symptomatic detection (hazard ratio, 2.49) and zip codes with low levels of educational attainment (hazard ratio, 5.17) remained associated with mortality after adjusting for all clinical and demographic factors.
Although the team didn't directly investigate any potential interventions, co-author Michaela Dinan, PhD, from Yale University said the study highlights that socioeconomic disparities in breast cancer outcomes remain even after all other factors have been considered.
"In other words, clinicians should be aware that patients from resource-poor neighborhoods may be at risk for worse outcomes and keep this in mind during the course of patient care so as to hopefully help level the playing field," she told AuntMinnie.com.
Factors associated with increased breast cancer-specific mortality included symptomatic detection (hazard ratio, 1.49), advanced disease stage (hazard ratio for stage III, 2.33), and high-grade disease (hazard ratio, 1.85).
The study authors also said that luminal A and B molecular subtypes may be associated with distinct mechanisms of genomic progression when detected at later tumor stages within population-level cohorts.
Researchers said these findings point to screening detection, tumor stage, gene expression, and survival being associated phenomena that could offer insights when examined together within a single context.
Dinan said the team is pursuing a prospective version of this study that will investigate similar links between patient clinical, sociodemographic, and genomic factors with respect to drivers of toxicity and response to emerging systemic tumor therapies.