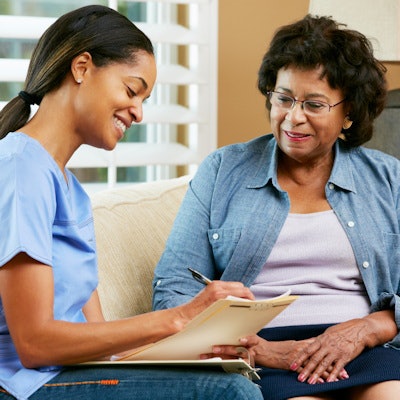 Black women have the highest mortality rate of all women with breast cancer, but earlier risk assessment, more participation in clinical trials, and more inclusion in national screening guidelines could help, according to an October 26 panel discussion.
In a panel hosted by the American College of Surgeons (ACS) as part of the ACS Clinical Congress, experts from across the U.S. talked about disparities in breast cancer screening and risk assessment seen in Black women and how they factor into gaps in diagnosis and treatment for these women compared to other races and ethnicities.
The American College of Radiology (ACR) in 2018 updated its guidelines to reflect that higher-risk women, which includes Black women, should start mammography screening earlier and may benefit from supplemental screening modalities.
During the panel discussion former ACR president Dr. Debra Monticciolo presented a study she co-authored that was published August 24 in Cancer, which suggested minority women should be screened at age 40 rather than 50.
The researchers found that minority women are 72% more likely to be diagnosed with invasive breast cancer under the age of 50. They also found minority women under 50 years old are 58% more likely to present with advanced cancer and are 127% more likely to die than white women from breast cancer.
"I think it really points to the fact that we are failing Black women," said Monticciolo, who practices at the Baylor Scott & White Medical Center in Temple, TX. "Waiting until 45 or 50 is not good for any woman, but it's a disaster for women of color, especially Black women."
Genetic testing has been shown to assess breast cancer risk in women to see what genes they carry that point to higher risk. However, previous research suggests Black women are less likely to undergo such testing.
Dr. Anita Johnson from the Cancer Treatment Centers of America in Atlanta said that guidelines should reflect that women who are at most risk of getting breast cancer and who are screened frequently should be referred for genetic testing, and that simply searching through family history is not enough.
"For Black women, we see this all the time. They present with a history of family members being diagnosed at a younger age and they present with a diagnosis of breast cancer," Johnson said. "In 2021, this should not happen. For all women, the entry point should change."
The authors also pointed out low participation rates among Black women in clinical trials, including for studies on diseases that affect Black women more than other races. They called on institutions to strategize increasing participation through effective communication initiatives.
Research over the past year suggests that the COVID-19 pandemic highlighted healthcare disparities that have persisted before, including in breast cancer screening. While the study authors said it's not known if the pandemic spurred increased interest in addressing healthcare disparities, they hope it opens and continues a conversation for the future.
Dr. Oluwadamilola Fayanju from the Rena Rowan Breast Center in Philadelphia said disparities seen in the pandemic's early days in the U.S. were seen in the availability of testing and people who believed they had COVID-19 being turned away from hospitals. Fayanju said recognizing that systemic racism is a contributor to implicit bias and access in creating disparities is important and that medical literature should do the same.
"Prior to 2020, you could not find the phrase 'systemic racism' in the New England Journal of Medicine. I know, because I looked for it as part of giving a talk on COVID-19 disparities," she said.
In terms of breast cancer, Fayanju said she is interested in studying the return to the standard of care and how the pandemic has shaped the way breast cancer is treated, with implications for more widespread treatment with endocrine therapy.