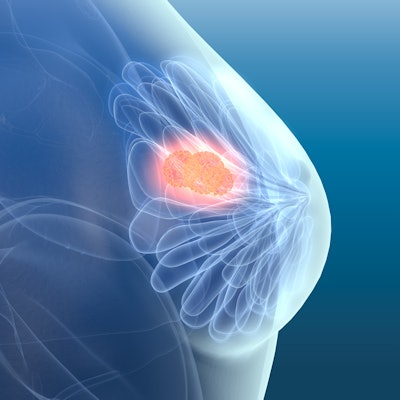 The COVID-19 crisis reduced the number of breast cancers diagnosed in Asian, Hispanic, and Black women, which could lead to adverse clinical outcomes down the road, according to a study published October 19 in Radiology.
Overall, there was a 24% year-over-year reduction in breast cancers diagnosed in a study population taken from 66 Breast Cancer Surveillance Consortium (BCSC) facilities across the U.S., with a 38% drop in cancers detected by screening. And the decline was highest among Asian women, with a 53% plunge in cancers detected.
The reduction isn't because there were fewer cancers but because COVID-19 put the kibosh on the use of preventive services such as mammography between March and September 2020 compared with the same period the year before, noted a team led by Dr. Kathryn Lowry of the University of Washington in Seattle: For example, by July 2020, year-to-date screening mammography exam volume was only at 66% of typical, with minority women showing the biggest reductions.
"[The screening deficit was] largest in Hispanic and Asian women, adding to existing evidence that the COVID-19 pandemic has disproportionately impacted minoritized racial and ethnic groups," the authors wrote.
Spring of 2020 saw a remarkable decline in the use of cancer screening services as the COVID-19 pandemic spread, Lowry's group wrote. The authors sought to assess breast biopsy recommendations and breast cancers diagnosed among minority women before and during the COVID-19 pandemic, prompted by either screening or symptoms.
Lowry and colleagues found a 24% decrease in cancer diagnoses during the time period compared with 2019, mostly due to fewer cancers found on screening. And the declines were highest among Asian, Hispanic, and Black women compared with their white counterparts.
Breast cancers diagnosed, pre-COVID-19 and during
March to September 2019
March to September 2020
Percent difference
Overall
2,171
1,650
-24%
Type of detection
Screen-detected
1,169
722
-38%
Symptom-detected
965
895
-7%
Racial group
Asian women
142
67
-53%
Hispanic women
145
82
-43%
Black women
287
210
-27%
Non-Hispanic white women
1,357
1,128
-17%
The study findings demonstrate that minority women may be vulnerable to poorer breast cancer outcomes due to screening delays, wrote Dr. Samantha Heller, PhD, of NYU Grossman School of Medicine in New York City.
"The authors' finding that the pandemic predominately affected cancer yields for certain populations -- Asian women -- as well as Hispanics and Blacks, is especially troubling," Heller wrote. "The pandemic has exposed deep fault lines of inequity in our healthcare system. If the observed screening and cancer diagnosis gaps lead to longer-term prognostic consequences, then this may turn out to be another way in which the pandemic inequitably affects distinct groups. The findings of this study therefore serve as a wake-up call for action to ensure that all women of all races and ethnicities have the opportunity to return to timely screening."