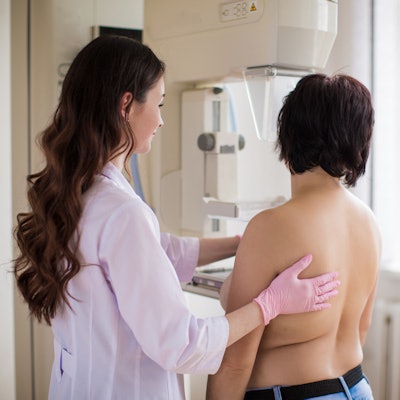 Breast density notification laws may not prompt mammography facilities to offer additional screening services. A North Carolina survey found that fewer than two-thirds of breast imaging locations offered supplemental screening for women with dense breasts, according to a September 14 study in Cancer.
Dense breast tissue is associated with an increased risk of breast cancer and can make it harder for mammography to detect breast cancer. Notification laws, including one passed in North Carolina in 2014, are intended to let women know about their density status so they can make informed screening decisions.
But the new survey questions whether notification laws alone may help women with dense breasts get additional screening. More than one-third of facilities in North Carolina did not offer additional screening services to women with dense breast tissue. And of those that did, fewer than half offered MRI or ultrasound.
"The lack of availability of ultrasound and MRI could lead to access issues for women whose routine screening is conducted at facilities that offer only digital mammography," wrote the authors, led by Louise Henderson, PhD, a professor at the University of North Carolina at Chapel Hill and director of the Carolina Mammography Registry.
The authors surveyed breast imaging facilities in North Carolina to get a better idea about how their services changed after the state implemented its own breast density notification law in 2014.
They mailed a 50-item survey to mammography facilities accredited in the state as of February 2017. Out of the 156 facilities that met their inclusion criteria, 94 filled out the survey for a 60% response rate.
All 94 responding facilities reported complying with the North Carolina law by informing women about their breast density status in a notification letter. However, only 64% of facilities offered any form of supplemental screening to patients.
Facilities offering supplemental screening had significantly higher volumes of both screening and diagnostic mammography than facilities without supplemental screening. They were also more likely to offer DBT, handheld ultrasound, and MRI.
The most popular form of supplemental screening was DBT, which was offered by 90% of facilities with supplemental screening. Fewer than half of facilities with supplemental screening reported offering handheld ultrasound (42%) or breast MRI (33%).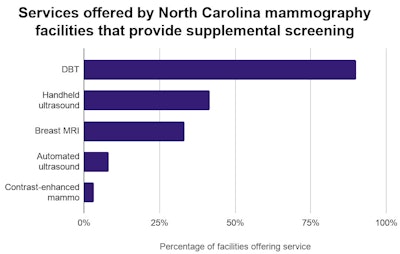 The findings suggest that the existence of notification laws may not result in supplemental screening options being universally available to patients. Unlike in some other states, the North Carolina law doesn't require insurers to cover supplemental screening methods for women with dense breast tissue.
"In several states, insurance coverage for supplemental screening is mandated under their density laws," the authors wrote. "If ultrasound or MRI is the primary modality of supplemental screening in a facility in North Carolina, women will likely have to pay out of pocket for these tests and this will likely pose a barrier for some women."
Although the law's impact on the use of supplemental screening was questionable, facilities reported making other changes to prepare for new regulations. One-quarter of facilities said they implemented DBT because of the notification law, and 18% of facilities said it prompted them to begin performing breast cancer risk assessments.
The survey findings are important as federal legislators and the U.S. Food and Drug Administration (FDA) weigh making notification laws a requirement in every state, the authors noted. In particular, there is work to do to minimize differences between facilities when it comes to supplemental screening.
"Effective methods of patient education about breast density and risk assessment as they relate to supplemental screening are currently lacking evidence-based guidelines, which are needed," Henderson and colleagues concluded. "Herein lie both an obligation and an opportunity for mammography facilities, which are well poised to provide knowledge directly to patients to triage, educate, and aid women in their decision making for breast cancer screening."