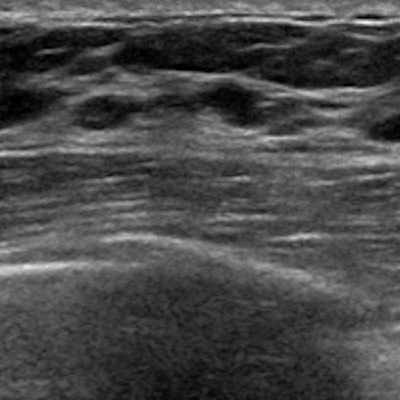 Automated breast ultrasound (ABUS) is more accurate than digital breast tomosynthesis (DBT) as a diagnostic tool for working up positive findings on mammography screening in dense breast tissue, according to a presentation delivered at ECR 2019.
ABUS does have limitations, notably microcalcifications and imaging the retroareolar area of the breast, said presenter Dr. Norran Hussein Said of Cairo University. But its benefits may outweigh them.
"ABUS has the capability of 3D assessment [of dense breasts], and can differentiate solid from cystic lesions," Said told session attendees.
The group used data from the Egypt Breast Cancer National Screening Program to compare the performance of ABUS to tomosynthesis in the workup of 242 women with dense breasts recalled after positive screening mammography. Positive findings included focal asymmetries, masses, distortions, or microcalcifications.
All of the women who participated in the study underwent both tomosynthesis and ABUS. The researchers compared exam results to pathology data.
Tomosynthesis vs. ABUS in women with dense breast tissue
Measure
Tomosynthesis
ABUS
Sensitivity
92%
92%
Specificity
92%
98%
Positive predictive value
76%
92%
Negative predictive value
98%
98%
Accuracy
92%
97%
"Our results show that most of our recalled cases consisted of masses, followed by asymmetries," Said told session attendees.
The two modalities agreed on true positives in 43 out of 51 proven cancers, and each modality had four false negatives. ABUS had four false positives, while tomosynthesis had 15. ABUS helped avoid 187 biopsies, while tomosynthesis helped avoid 176.
"In our study, ABUS showed a higher accuracy than DBT," Said concluded.
Works with 2D, too
In a related study, a Romanian team found that, when added to full-field digital mammography (FFDM), ABUS was an effective adjunct tool for finding cancer in women with dense tissue, specifically improving sensitivity and negative predictive value compared with FFDM alone.
Dr. Ioana Boca of Emergency County Hospital in Cluj-Napoca compared the performance of FFDM, 3D mammography, and ABUS for breast cancer detection in women with dense tissue. Two radiologists interpreted 127 ABUS exams procured after FFDM or 3D mammography. Their results were compared to histopathology for biopsied lesions, handheld ultrasound for benign lesions, and follow-up for benign lesions unchanged for at least two years. Nineteen cancers were identified.
ABUS boosted FFDM's sensitivity and negative predictive value, although it did not outperform 3D mammography in this screening context, Boca noted.
FFDM, FFDM + ABUS, and 3D mammography in dense tissue
FFDM
2D mammography + ABUS
3D mammography
Sensitivity
77.8%
80%
100%
Specificity
100%
89.2%
86.4%
Positive predictive value
100%
71.4%
74.2%
Negative predictive value
92%
93%
100%
"In screening, ABUS added to FFDM compared with FFDM alone improved readers' detection of breast cancers in women with dense breast tissue," Boca concluded.