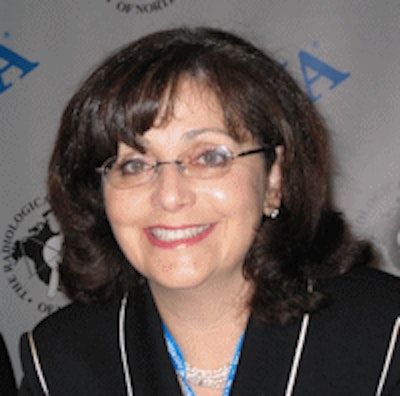 Adding automated breast ultrasound (ABUS) to mammography for breast cancer screening increases the detection rate of invasive cancers by more than 30%, according to a study by Dr. Rachel Brem that has been published in Radiology.
The findings are encouraging for women with dense tissue -- in which mammography tends to lose sensitivity -- and dovetail with the fact that more states are passing legislation that requires women to be notified of their breast tissue density and advised about additional screening options, according to Brem, who is a professor and vice chair of radiology at George Washington University.
"The cancers ABUS finds are the ones we want to find: small, largely node-negative, and invasive," she told AuntMinnie.com. "It's an excellent solution to imaging asymptomatic women with dense tissue, especially since at least 19 states now require women to be notified of other imaging options."
Study data came from the 11-center SomoInsight study, conducted between 2009 and 2011 and funded by U-Systems, which is now a subsidiary of GE Healthcare. The research included more than 15,000 women who presented for screening mammography with heterogeneously or extremely dense breasts but no other known risk factors. All of the women had a mammography exam followed by an ABUS exam (Radiology, October 17, 2014).
Of the total number of women who participated in the study, 112 were diagnosed with breast cancer; 17 were identified only with screening mammography, 65 with both mammography and ABUS, and an additional 30 only by ABUS.
Brem's group discovered that cancers detected at ABUS were more likely to be invasive than those found at mammography: 93.3% versus 62.2%, respectively. In fact, of the cancers found in women recalled because of screening mammography alone, 64.7% (11 of 17) were ductal carcinoma in situ (DCIS), compared with only 6.7% (two of 30) of the additional cancers found by ABUS. Finally, adding ABUS to mammography increased the sensitivity rate by 26.7%.
FFDM vs. FFDM +ABUS for breast cancer detection
FFDM alone
FFDM + ABUS
Difference
No. of cancers found
82
112
36.5%
Yield per 1,000 women screened
5.4
7.3
35%
Sensitivity
73.2%
100%
26.7 percentage points
Recalls
150.2
284.9
90%
Most studies that have evaluated MRI or ultrasound in women with dense breasts have included women who are at high risk, with additional factors such as personal or family history of breast cancer or the BRCA1 or BRCA2 gene -- e.g., the American College of Radiology Imaging Network (ACRIN) 6666 trial. As such, the number of additional cancers found by adjunctive imaging per 1,000 women screened in ACRIN 6666 was higher than the 1.9-cancer increase in the SomoInsight study, according to the authors.
"In our study, the criterion for inclusion was that the woman was asymptomatic and had dense breast tissue, and we did not require women to be at increased risk for breast cancer," they wrote. "It is, therefore, not surprising that, in our study, we found fewer additional cancers per 1,000 women screened, as the prevalence of disease was lower."
Recall reality?
There is a fly in the ointment, though, in that the recall rate also increased with the addition of ABUS to FFDM for screening. Of 1,000 women screened, 150 were recalled when imaged by mammography alone, while the addition of ABUS boosted that number to 285, for a 90% increase.
But this higher recall rate is to be expected as new technology is assimilated into clinical practice, according to the authors.
"The high false-positive rate in this study is not unprecedented with evaluation of new screening modalities and is consistent with the relatively high rate of cancers detected," they wrote. "It is by no means inevitable that it would translate directly into routine practice."
In any case, the study results show that ABUS finds invasive cancers when mammography does not, which is good news for breast cancer patients with dense tissue, according to Brem and colleagues. In fact, ABUS offers a number of benefits as an adjunct screening modality: Patients tolerate it well, it doesn't require radiation, and the "automated" in ABUS addresses the issue of operator dependence in handheld ultrasound -- which can make quality more consistent and exams more efficient, Brem said.
"Adding ABUS to mammography screening addresses a big challenge in breast imaging," she told AuntMinnie.com. "Ultrasound is very effective in finding cancers hidden on mammography, and it can be effectively and efficiently used in the screening environment because it's automated."