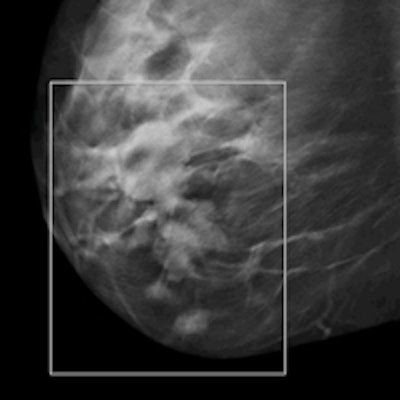 While it's not the first company to have a digital breast tomosynthesis (DBT) system on the U.S. market, GE Healthcare believes its SenoClaire has unique features that will differentiate it from the competition -- including lower radiation dose, a key factor in the debate over whether DBT should replace conventional mammography.
On August 26, the company won approval from the U.S. Food and Drug Administration (FDA) for SenoClaire, for which it submitted a premarket approval (PMA) application in July 2013. The clearance makes SenoClaire the second DBT system available in the U.S., after Hologic's Selenia Dimensions system, which began shipping in 2011.
"GE truly believes that SenoClaire has the capability to change how breast cancer screening is done around the world," Catherine Tabaka, GE Healthcare chief marketing officer of detection and guidance solutions, told AuntMinnie.com.
Research studies have shown DBT to have clinical benefits such higher cancer detection rates and lower recall rates; however, radiation dose with the units has been a concern, particularly if separate four-view 3D and four-view 2D mammography studies are acquired -- resulting in two radiation-bearing exams.
GE received FDA approval to perform screening exams with two 2D craniocaudal views and two 3D mediolateral oblique views. Because the system in 3D mode delivers no more radiation dose than when in 2D mode, there is no increased radiation to patients, Tabaka said.
In addition, SenoClaire conducts a 10-second x-ray sweep around the positioned breast, acquiring nine exposures in a "step-and-shoot" method that removes potential motion from images, as the tube makes a complete stop for each of the exposures.
What's the benefit? Higher peak contrast for microcalcifications, compared with DBT systems that use a tube in continuous motion, Tabaka told AuntMinnie.com.
"The step-and-shoot technique ensures that no movement alters the image," she said. "It's like if you were trying to take a picture while riding in a car -- you'd stop the car to take the picture."
GE will also highlight other SenoClaire features, such as the system's x-ray beam, that support lower-dose imaging.
"With SenoClaire's high-quality x-ray beam, we can take the combination image of the breast at low doses, even in breasts as thick as 15 mm," she said.
GE received the CE Mark for SenoClaire in July 2013 and began shipping the product last year in Europe, the Middle East, Australia, and Latin America; it now has 180 units installed outside of the U.S. It is available as an upgrade to GE's Senographe Essential system and is compatible with the company's Centricity PACS and Centricity Clinical Archive package.
"We know mammography isn't necessarily as successful with all types of breast tissue, particularly dense tissue," Tabaka told AuntMinnie.com. "With SenoClaire, we're delivering the earliest cancer detection with the highest level of confidence in the clinical information. We want to make sure radiologists can confidently send healthy women home."