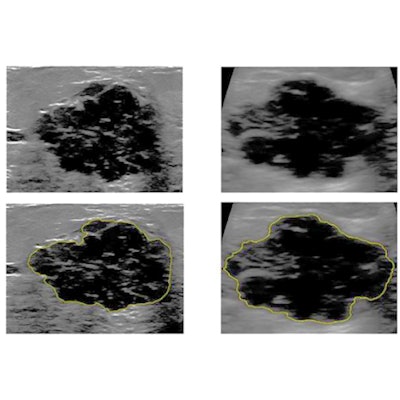 Combining volume sweep imaging (VSI) for breast ultrasound with artificial intelligence (AI) could make way for rapid and automated diagnosis of breast lumps without a sonographer or a radiologist, suggest findings presented March 26 at UltraCon.
In his presentation, Dr. Thomas Marini from the University of Rochester Medical Center in New York discussed his team's findings, which showed that this combined method showed moderate to high agreement with standard of care and VSI interpretations, as well as high sensitivity and specificity marks.
"We're not trying to replace sonographers," Marini told AuntMinnie.com. "We're trying to do a 'work smarter, not harder' type of approach."
Previous reports suggest a nearly 60% increase in incidence and mortality of breast cancer between 2002 and 2020 in low- to middle-income countries. Marini pointed out that delayed diagnosis is a serious problem in these areas and adds to increasing morbidity and mortality.
While breast ultrasound is a preferred supplemental imaging modality, its availability in low- to middle-income countries is limited by the availability of both expert sonographers and interpreting radiologists, Marini said.
"It takes months to years of training for somebody to be good at obtaining ultrasound images, hone their technical skills, and learning complex anatomy and pathology," he added, saying that this can also be costly.
Marini and colleagues wanted to explore the potential for an automatic diagnostic system for evaluating breast lumps that would not require an expert sonographer or radiologist. It employed VSI performed by individuals without prior medical training using existing commercially available AI (S-Detect, Samsung).
The researchers tested this method on 115 masses, 20 of them being cancerous. They found an agreement of 87.7% among cancers, cysts, fibroadenomas, and lipomas on diagnosis for the expert standard of care and VSI interpretations. This included a Cohen's kappa value of 0.73 (p < 0.0001).
In the same mass categories, the team also found 90.4% agreement on diagnosis between interpretations of standard of care and VSI interpretations on S-Detect, with a Cohen's kappa value of 0.79. The same went for S-Detect interpretations and pathological diagnosis, (Cohen's κ = 0.8). Both values achieved statistical significance.
S-Detect interpretations of VSI also had 100% and 86% sensitivity for cancer among the same mass categories. Marini also said there was greater than 80% agreement across interpretations for mass orientation, mass shape, mass margins, and mass echogenicity.
Marini told AuntMinnie.com that while this method will not ultimately replace radiologists, it could pave the way for ultrasound services to be used in areas with limited medical resources. He previously led a study showing VSI's potential for use with minimal training in a pilot telediagnostic ultrasound study set in Peru.
"My hope is that we can have people for this small financial investment and training, you could bring this [technology] to a rural area and they would have the ability to accurately diagnose a palpable breast lump without a radiologist," he said.
Marini added that what's next is better automatic integration of the technologies involved, including other AI algorithms, as well as addressing the public health aspect of applying this method.