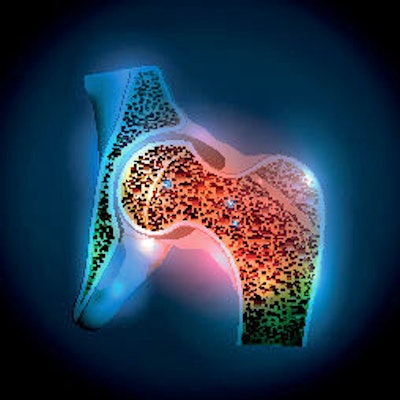 Low bone mass may be associated with periodontal disease (PD) in middle-aged adults, according to a study published on March 23 in the International Journal of Environmental Research and Public Health.
Approximately 40% of middle-aged patients with osteoporosis and 30% of middle-aged patients with osteopenia are at risk of developing periodontal disease, based on the findings. Clinicians may want to explore gum disease intervention programs in younger adults, the authors wrote.
"We demonstrated that low bone mass increased the risk of PD among young adults," wrote the group, led by Dr. Hsin-Hua Chou from the Taipei Medical University School of Oral Hygiene in Taiwan.
Osteopenia is a condition in which bones begin to weaken, and it can progress to osteoporosis, which occurs when the body loses too much bone, does not make enough bone, or both. Osteoporosis mainly occurs in the elderly, and it is more common in women.
Evidence has shown that severe osteoporosis significantly reduces bone mineral content in the jaws and may be associated with connective tissue loss found in periodontal disease. Alveolar bone loss is a notable indicator of periodontal disease, suggesting severe osteoporosis may be an aggravating factor in gum disease.
Because the prevalence of periodontitis increases with age and rises sharply in patients between the ages of 30 and 40, the authors explored the association between gum disease and osteoporosis in middle-aged adults. Approximately 7,300 adults between the ages of 40 and 44 who underwent population-based periodontal disease screening in Taiwan between 2003 and 2008 were enrolled in the study.
The authors measured osteopenia and osteoporosis using bone mineral density ultrasound scans. The data were used to determine the effect of low bone mass on the risk of periodontal disease.
In total, 31% of the participants had periodontal pockets that were more than 3-mm deep, signifying gum disease. Another 36% had osteopenia and 2% had osteoporosis, according to the authors.
The data revealed that the prevalence of periodontal disease was high in adults with osteoporosis and osteopenia. Prevalence was 40% in adults with osteoporosis and 33% in those with osteopenia, they reported.
Nevertheless, there were several limitations of the study, such as the authors using probing depth as a dependent variable to represent periodontal disease severity. Probing depth readings likely do not provide an appropriate measurement of periodontal history, they wrote. Furthermore, because it remains unclear whether osteoporosis causes periodontal disease or gum disease causes bone disease, more studies are needed.
Regardless, "our result could be used as a warning to raise public awareness about osteoporosis and PD in young adults," Chou and colleagues wrote.