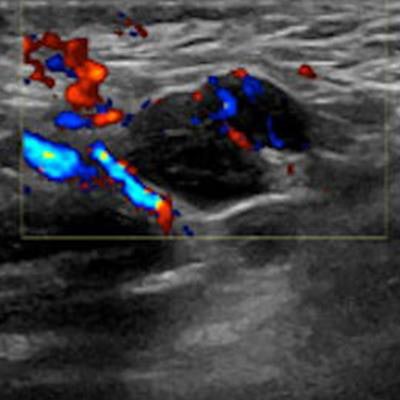 Breast ultrasound was used to demonstrate signs of lymph node enlargement in four cases of patients who received the COVID-19 vaccine. Radiologists from NewYork-Presbyterian published the case studies on January 18 in Clinical Imaging.
The case studies involve women in their 40s and 50s who presented to the radiology department for breast imaging within two weeks of receiving a Pfizer-BioNTech or Moderna COVID-19 vaccine. Breast ultrasound showed the women had at least one enlarged lymph node. In all cases, the authors recommended follow-up imaging at a later time.
"With widespread rollout of the COVID-19 vaccine, it is prudent for radiologists to consider vaccine-induced hyperplastic adenopathy as an etiology of unilateral axillary adenopathy seen on breast imaging," wrote the authors, led by Dr. Nishi Mehta, a radiology fellow at NewYork-Presbyterian/Weill Cornell Medical Center.
Axillary adenopathy can be a sign of breast cancer. But it can also result from a number of benign causes, including local infection, inflammation, or trauma in the breast, thoracic wall, or nearby arm.
Vaccines are one reported benign cause of one-sided axillary adenopathy, and the symptom has been documented after vaccination for smallpox, bacillus Calmette-Guerin (tuberculosis), and anthrax. It appears more often in vaccines that evoke a very strong immune response.
As reported in the study, axillary adenopathy can occur after vaccination with the Pfizer-BioNTech and Moderna COVID-19 vaccines. The U.S. Centers for Disease Control and Prevention (CDC) lists axillary adenopathy as one of the most frequently reported adverse reactions to the Moderna COVID-19 vaccine. The CDC also noted more adenopathy cases occurred in patients who received the Pfizer-BioNTech vaccine than a placebo.
This appeared to be the case for four women who presented for breast imaging at NewYork-Presbyterian. The patients had no preexisting conditions and were all frontline workers who qualified for the first round of Moderna or Pfizer-BioNTech vaccines.
In one case, a 59-year-old woman with no personal history of breast cancer came to the department after finding a palpable lump near her left armpit. Her mammogram was unremarkable, but targeted sonography showed her left axillary lymph node had uniform cortical thickening of 0.7 cm in an area corresponding to the patient's concern.
When asked about her history, the patient said she had recently received the Pfizer-BioNTech COVID-19 vaccine and noticed the lump nine days after receiving her first vaccine dose.
The authors reported similar findings in two women who presented for routine breast ultrasound screening, as well as one woman who underwent ultrasound follow-up of probably benign bilateral breast masses. All three of these women had diffuse cortical thickening in at least one axillary lymph node within 13 days of receiving a first or second vaccine dose.
In all four cases, the authors recommended follow-up imaging with targeted ultrasound. NewYork-Presbyterian is currently recommending clinicians delay follow-up ultrasound imaging until four to 12 weeks after patients receive their second COVID-19 vaccine dose. If the adenopathy still persists at this time, then the authors would recommend biopsy to rule out cancer.
While the report focused on breast imaging, Mehta said breast imagers aren't the only types of radiologists who may come across axillary adenopathy.
"Thoracic imagers will likely see similar findings of unilateral axillary adenopathy and cervical adenopathy on chest imaging studies and should therefore be similarly aware of the diagnosis," she told AuntMinnie.com.
Axillary adenopathy may also be seen on mammography, noted Mehta. Axillary adenopathy after vaccination has also been documented as increased FDG uptake on PET and CT, she added.
"We expect similar findings post COVID-19 vaccination," she said.