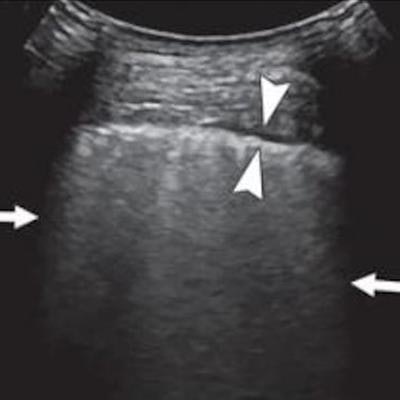 Findings on lung ultrasound scans were correlated with COVID-19 severity and duration in a study published on July 23 in the American Journal of Roentgenology. In particular, pulmonary consolidations distinguished between patients with moderate and severe forms of the disease.
The study included dozens of patients who were consecutively treated for COVID-19 at a Chinese hospital in March. The findings may aid physicians in managing patients with moderate-to-severe COVID-19, the authors noted.
"Our results indicate that lung [ultrasound] findings can be used to reflect both the infection duration and disease severity," wrote the authors, led by Dr. Yao Zhang from Ditan Hospital in Beijing.
Zhang and colleagues enrolled 28 patients consecutively hospitalized for COVID-19 at their institution between March 1 and March 30. The patients all tested positive for the novel coronavirus on a nasopharyngeal test and underwent a bedside lung ultrasound scan in a sitting, supine, and decubitus position.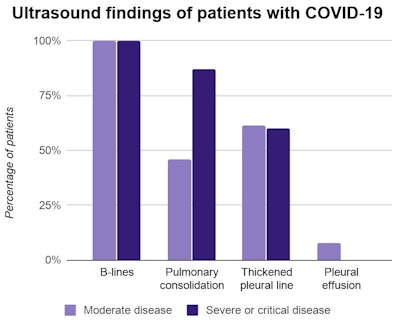 Every patient in the study had B-lines on their ultrasound scans, which indicate areas of increased interstitial fluids and decreased alveolar air. Another two-thirds of patients had pulmonary consolidation, and 61% had a thickened pleural line. Only one patient had a pleural effusion.
Pulmonary consolidation occurred significantly more often in patients with severe or critical COVID-19 than patients with moderate disease, the authors found. Almost 87% of patients with severe or critical disease had pulmonary consolidation on ultrasound, compared with just 46% of patients with moderate COVID-19.
Furthermore, patients with a thickened pleural line had experienced a longer infection period than those without a thickened pleural line. Patients with fewer than 20 days between the day they first noticed COVID-19 symptoms and the day of their ultrasound scan were significantly less likely to have a thickened pleural line than those with a difference of 20 days or more.
The study findings add to the growing body of research demonstrating that severity on lung ultrasound scans can predict worse outcomes and even mortality for patients with COVID-19. The authors emphasized that ultrasound also has unique benefits over other imaging modalities, including CT, for treating patients with the novel coronavirus.
"[Ultrasound] is repeatable in critically ill patients, which ensures that monitoring of the severity of the disease and the effects of therapies can be easily carried out," they wrote. "This capability is particularly important in situations in which chest CT is not available, such as in isolation wards and [intensive care units]."
The authors cautioned that their study focused on a small number of patients and did not evaluate how ultrasound findings might have changed over time. They hope future studies will continue to study the use of lung ultrasound for COVID-19, particularly how lung ultrasound scoring systems might improve COVID-19 assessment and treatment.
"Lung [ultrasound] was highly sensitive for detecting abnormalities in patients with COVID-19, and B-lines, a thickened pleural line, and pulmonary consolidation were the most commonly observed features," the authors concluded.