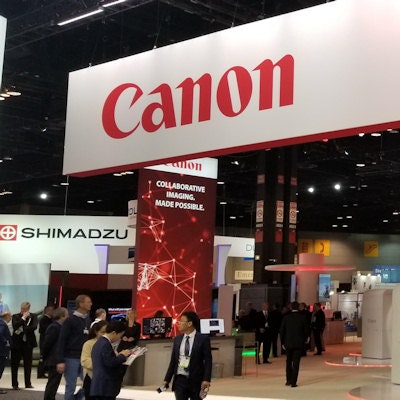 Japanese industrial conglomerate Canon said that new product launches helped propel revenue in the company's Medical Systems division, with revenue growth accelerating in the fourth quarter (end-December 31, 2018).
For the fourth quarter, Canon's Medical Systems business reported revenue of 118.2 billion yen ($1.08 billion U.S.), up 14% from revenue of 103.7 billion yen ($950 million) in the fourth quarter of 2017.
The Medical Systems business saw annual sales grow 0.3% to 437.6 billion yen ($4 billion), compared with 436.2 billion yen ($3.98 billion) in fiscal 2017. The division's annual net income before taxes was 29.5 billion yen ($270 million), up 31% from 22.5 billion yen ($206 million) in 2017.
Canon attributed the growth to the launch of products such as the Vantage Orian 1.5-tesla MRI scanner, the Alphenix family of angiography units, and new ultrasound scanners.
The company said that in the 2019 fiscal year, demand for medical equipment is expected to remain strong, mostly outside of Japan. Key drivers will be increasing demand in emerging markets and growing demand for advanced medical care in the U.S.