The Prostate Imaging Reporting and Data System (PI-RADS) upgrade and downgrade rates from targeted MRI biopsy to radical prostatectomy don't appear to have changed between PI-RADS version 2.0 and 2.1, according to a study published September 20 in the American Journal of Roentgenology.
The results highlight a need to "address concerns of reproducibility by providing clearer and more precise instructions for the system's scoring criteria," noted a team led by Enis Yilmaz, MD, of the National Cancer Institute at National Institutes of Health in Bethesda, MD.
Prostate cancer risk assessment is often performed via MRI/US fusion-guided targeted biopsy, and is crucial for optimal treatment, the team noted. The PI-RADS assessment metric is used to do this and thus to determine whether biopsy or radical prostatectomy is needed; the tool scores lesions on a scale of one (likely not cancer) to five (very suspicious).
PI-RADS was updated from a 2.0 version to a 2.1 version in 2019, and since then, version 2.1 has "generally been considered successful in properly stratifying lesions into different risk categories based on cancer detection rates at biopsy," the group noted.
"In particular the low cancer yield of PI-RADS category 4 lesions using version 2.0 appears to be improved by applying the changes in version 2.1," it wrote. "However, the data regarding the rates of upgrade and downgrade of pathologic findings from targeted biopsy to radical prostatectomy when applying version 2.1, as well as a comparison of such rates with those for version 2.0, are limited."
Yilmaz and colleagues sought to assess whether the PI-RADS 2.1 update affected upgrade or downgrade rates from targeted biopsy to radical prostatectomy via an analysis of 308 patients who underwent 3-tesla prostate MRI at a single instutitution between May 2015 and March 2023. The team then identified those patients who had an MRI exam followed by MRI/ultrasound-fusion guided targeted biopsy and radical prostatectomy within a one-year interval; a single genitourinary radiologist interpreted the MRI exams using PI-RADS 2.0 between May 2015 and March 2019 (177 patients) and PI-RADS 2.1 between April 2019 and March 2023 (131 patients). Clinically significant prostate cancer was categorized as having a Gleason score equal to or more than two.
The investigators found no significant differences in rates of upgrade, downgrade, clinically significant upgrade, or clinically significant downgrade between the two PI-RADS versions.
Comparison of upgrade, downgrade rates from biopsy to prostatectomy between PI-RADS versions
Measure
PI-RADS 2.0
PI-RADS 2.1
p-value
Upgrade
29%
22%
0.15
Downgrade
19%
21%
0.76
Clinically significant upgrade
14%
10%
0.27
Clinically significant downgrade
1%
1%
>0.99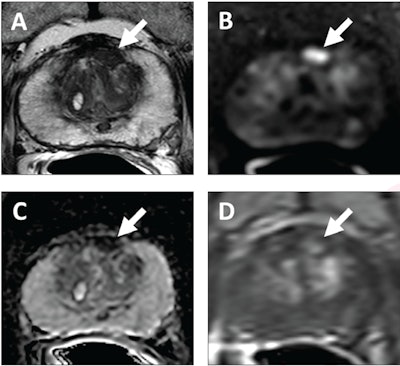 The team also reported that upgrade and downgrade rates were not significantly different between the two PI-RADS versions when it stratified them by index lesion PI-RADS category or index lesion zone.
The study findings underscore that "additional strategies are needed to improve the incongruence in prostate cancer grade assessment between targeted biopsy and surgery," the group concluded.
The complete study can be found here.