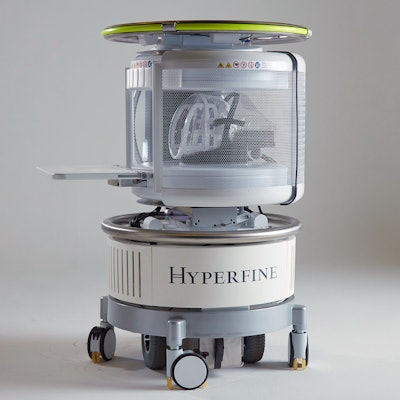 Portable MRI developer Hyperfine is collaborating with the International Society for Magnetic Resonance in Medicine (ISMRM) and the Bill & Melinda Gates Foundation on an educational program to increase neuroimaging clinical research and knowledge transfer between high-income and low- and medium-income countries.
A goal of the ISMRM program is to facilitate local neuroimaging capabilities in low- and medium-income countries by enabling access to ISMRM's educational programs, and by establishing a global mentorship program for its clinicians.
Hyperfine explains in a press release that this also includes the deployment of MR brain imaging equipment made possible by an existing partnership with the Bill & Melinda Gates Foundation's UNITY Project. This Gates Foundation funded-initiative allows leading researchers to study environmental factors affecting early brain development, and it is focused on neurodevelopment patterns in sub-Saharan and South Africa. As part of that project, Hyperfine has already deployed its Swoop portable MRI scanners in Bangladesh, Ethiopia, Ghana, Kenya, Malawi, Pakistan, South Africa, and Uganda.
As part of the program, the ISMRM-Gates Foundation partnership underwrote the attendance of 100 participants who were members of the UNITY Project and/or the newly formed Africa chapter of the ISMRM to attend ISMRM 2023. They have also been paired with individual long-term mentors, which include three Hyperfine managers: Chief Medical Officer and Chief Strategy Officer Khan Siddiqui, MD; Senior Research Scientist Megan Poorman, PhD; and Francesco Padormo, PhD.