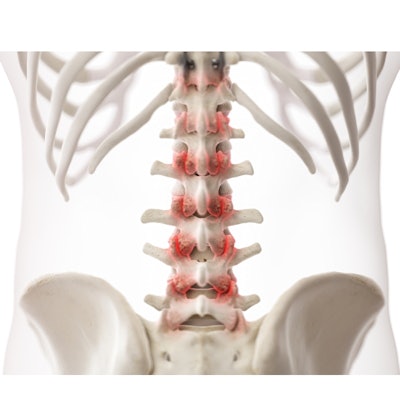 A rapid lumbar MRI protocol that uses 3D imaging and deep learning reconstruction has led to reduced imaging times, according to research published on January 5 in Skeletal Radiology.
Researchers, led by Dr. J. Levi Chazen from the Hospital for Special Surgery in New York, also reported that their protocol had similar performance for common diagnostic metrics. They highlighted that this technique could enhance patient throughput in busy radiology practices while providing similar or improved image quality.
For the study, the team performed the protocol on 35 patients. The patients underwent MRI using standard 2D lumbar imaging in addition to a "rapid protocol" that included 3D imaging and a prototype deep learning reconstruction algorithm.
The researchers found that the protocol resulted in a 54% reduction in total acquisition time compared to a 2D standard protocol. They added that the rapid protocol also showed "strong" agreement with the standard protocol when it came to osseous lesions (kappa, 0.88), fracture detection (kappa, 0.96), and neural foraminal stenosis.