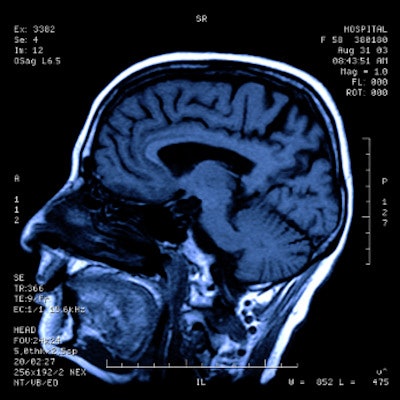 MRI may aid in the early detection of gum disease by showing periodontitis-linked changes in the jawbones of patients prior to bone defects occurring, according to a study published March 21 in the Journal of Clinical Periodontology.
Imaging showed patients with positive bleeding-on-probing tests faced a greater risk of already having bone edema around those teeth, even with probing pocket depths classified as having minimal risk for periodontal disease, the authors wrote.
"Osseous edema may serve as surrogate marker for early stages of periodontal disease and MRI may have possibilities for new options for detection, decision making and monitoring of periodontitis," wrote the group, led by Dr. Monika Probst from the department of diagnostic and interventional neuroradiology at University Hospital Rechts der Isar in Munich.
Periodontitis is diagnosed based on increased probing depth, bleeding on probing, and clinical findings on panoramic x-rays. Conebeam CT (CBCT) provides 3D views of tooth-supporting bone defects, allowing for better treatment planning. However, x-rays and CBCT scans cannot visualize soft-tissue processes such as inflammatory changes linked to water retention in the bone. Therefore, these modalities fail to show early changes within bone prior to inflammation-induced bone loss.
On the other hand, MRI scans provide detailed images of dental pulp, nerves, and gums. Having patients undergo MRI scans could provide clinicians with information about bone loss or the extent of periodontal attachment sooner, possibly reducing the risk of tooth loss.
For the current study, 42 patients with clinical evidence of periodontal disease were enrolled at the periodontology department at Ludwig Maximilian University of Munich between May and December 2018. In addition, 34 healthy control subjects were prospectively enrolled. None of the participants had received periodontal treatment within the prior six months, and all provided a current x-ray, if possible.
All participants were examined to determine their probing pocket depths at six sites per tooth and to test for bleeding on probing. Periodontitis was diagnosed if there was clinical periodontal attachment loss at two or more interdental sites at nonadjacent teeth and/or a probing pocket depth of greater than 3 mm at oral or lingual sites.
A neuroradiologist and a dentist and radiologist examined MRI scans of the participants to find changes within the tooth-supporting alveolar bone associated with periodontitis. The MRI scans showed bone edema exceeding the extent of demineralized bone, indicating that the imaging modality may assist with earlier diagnosis of periodontal disease, the authors wrote.
MRI also revealed a significant association between a positive bleeding-on-probing test and bone edema. Patients with a positive test showed a 2.5-fold increase in risk of already having bone edema around the respective tooth -- even those with probing depths considered healthy at 3 mm or less (95% confidence interval [CI], 1.54-4.11).
Limitations of the study included the time-consuming process of manual segmentation. While thresholds could help, because MRI signal values are not absolute values, like those used in CT, the thresholds would need to be changed for each patient, the authors wrote.
Studies that examine the histopathology of edema should be performed in the future. Such research would be valuable in understanding the processes that occur within bone before it demineralizes, they noted.
"These findings offer new options for early detection, decision making and monitoring of periodontal disease," Probst and colleagues concluded.