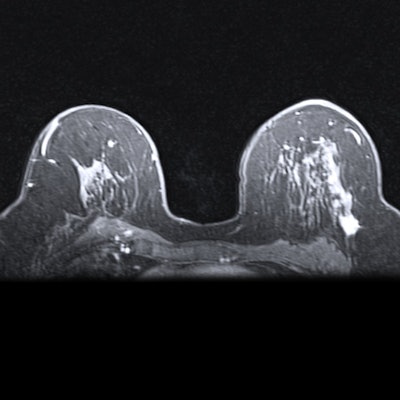 The future of breast screening may not be mammography but MRI. The technical advances making MRI quicker, more accurate, and less costly for breast screening were discussed at a presentation on August 8 at the Society for MR Radiographers & Technologists (SMRT) annual meeting.
Breast MRI has often been limited by long exam times, the need for contrast agents, and, of course, its high cost relative to traditional x-ray mammography. But modern technological advancements in MRI are slowly making the modality more accessible for breast screening, according to Savannah Partridge, PhD, a professor of radiology at the University of Washington School of Medicine.
"Reducing all of these issues or barriers would improve the availability of breast MRI for women," said Partridge in her SMRT 2020 lecture on the future directions of breast MRI.
Abbreviated protocols
One of the biggest advancements in MRI breast imaging has been the creation of abbreviated protocols that can cut down breast scan time to mere minutes.
Abbreviated MRI was first described in a 2014 study when researchers from Germany demonstrated how a protocol that only included the most essential precontrast images and one postcontrast image could cut breast scan time to just three minutes. Since then, numerous studies have confirmed abbreviated MRI's diagnostic accuracy and have explored its potential as a screening method.
One of the latest studies on abbreviated MRI showed that a 10-minute MRI scan found more than twice the number of invasive cancers in women with dense tissue than digital breast tomosynthesis (DBT). The same research team is now investigating whether abbreviated MRI screening could be cost-effective and still accurate if conducted every two to three years, according to Partridge.
"It's clear that the use of abbreviated protocols may allow us to improve time and cost without impacting performance," she said.
But the use of abbreviated MRI doesn't just have to benefit future patients. Presenter Dr. Rebecca Rakow-Penner, PhD, an assistant professor of radiology at the University of California, San Diego, said many of her current patients are already willing to pay for an abbreviated protocol out of pocket. She offers the option to patients who are at increased risk for breast cancer but don't meet the threshold required to be classified as high risk.
"It turns out plenty of women have heard about MRI and are willing to pay for an abbreviated MRI protocol," she said.
Diffusion-weighted imaging
Aside from the time and cost, one of the biggest drawbacks of MRI is the need for gadolinium. Consequently, the panelists repeatedly lauded diffusion-weighted imaging (DWI) as one of the promising methods for contrast-free MRI.
"We still have not eliminated the need for gadolinium contrast, which adds to both the time and potential toxicities of the exam," Partridge said. "Diffusion DWI holds the greatest potential of a noncontrast imaging technique."
On DWI, breast malignancies often exhibit more restricted diffusion and lower apparent diffusion coefficient (ADC) values than benign lesions. Early research has shown a cutoff ADC value of 1.53 x 10-3 mm2/sec or less could reduce biopsy rates by more than 20% without missing cancers.
"A lot of us would really like to make diffusion-weighted imaging high-resolution enough and [high] quality enough that it can be used as a screening technique for patients without having to give them that intravenous contrast on an annual basis," Rakow-Penner said.
MR spectroscopy
One of the more unconventional ideas presented at the SMRT 2020 panel was the use of MR spectroscopy to predict the development of invasive breast cancer. In her presentation, Carolyn Mountford, PhD, a professor of radiology at the University of Queensland, described how her research team has edged closer to such a technology over the past 30-plus years.
"The goal of this program is an imaging test for diagnosis of early changes to breast tissue prior to life-threatening cancer," she said.
In 1984, Mountford discovered she could use long T2 resonance to distinguish between malignancies that were metastatic and not metastatic in rats. Through a series of experiments, she realized that MR spectroscopy was picking up on specific chemical changes that predated cancerous tumors turning invasive.
"We found that during the preinvasive stages of tumor development, significant changes were taking place in the plasma membrane," she said.
Thanks to data advancements, Mountford and her team utilized data mining to confirm that they could use chemistry to identify malignancy in 400 fine-needle breast biopsies. By using MR spectroscopy to just examine chemistry, the team accurately distinguished between malignant and benign tissues -- as well as tissues from patients with and without lymph node involvement.
"The laws of chemistry apply whether the sample is in the test tube, the membrane, the cell, the biopsy, or in vivo in humans," she said.
Mountford is optimistic about the future of the technology, particularly for patients with very dense breast tissue. While the acquisition and processing of the data require a highly skilled radiographer or MR tech, her team is in the process of automating classifiers to evaluate the data.
"It's a new screening method for people at high risk for breast cancer potentially reducing exposure to gadolinium-based contrast agents," she said. "It's also a personalized screening for women at average and high risk of breast cancer."