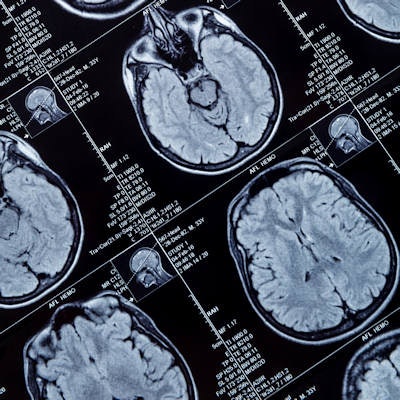 Hospitalized patients with COVID-19 should undergo an MRI exam before being discharged to determine whether they have sustained brain damage from the virus, according to researchers from Johns Hopkins University who published a study June 10 in the Journal of Alzheimer's Disease.
This baseline MRI helps clinicians track patients with COVID-19 who have neurological damage over the long term, wrote a team led by neurologist Dr. Majid Fotuhi, PhD.
"Up to 20% of COVID-19 patients who require intensive care unit [ICU] admission due to their neurological issues, and COVID-19 patients in ICU who have neurological deficits, are at a higher risk of mortality," the group wrote. "Patients who do leave ICU and recover from their respiratory symptoms are potentially at higher risk for long-term residual neuropsychiatric and neurocognitive conditions including depression, obsessive-compulsive disorder, psychosis, Parkinson's disease, and Alzheimer's disease."
Neurological complications from COVID-19 can include stroke, seizures, confusion, dizziness, paralysis, and coma. However, it's not yet clear whether these complications are caused by the virus itself, the body's inflammatory response that COVID-19 can trigger, or the formation of blood clots throughout the body and brain, Fotuhi's group noted.
To help their peers better understand the neurological manifestations of COVID-19 pneumonia, the Johns Hopkins researchers developed the following "NeuroCovid Staging" classification scheme:
Stage I: Damage is limited to epithelial cells of nose and mouth; main symptoms include transient loss of smell and taste.
Stage II: The virus triggers a cytokine storm, beginning in the lungs before moving throughout the whole body via the blood. This inflammation flood leads to blood clots that cause strokes in the brain.
Stage III: Severe levels of cytokine storm damage the blood-brain barrier, resulting in the leaking of blood content, inflammatory markers, and virus particles into the brain; patients develop seizures, confusion, coma, or encephalopathy.
Making sure patients with COVID-19 have a baseline MRI scan is key to their continued care, Fotuhi said in a statement released by the journal.
"As a medical community, we need to monitor these patients over time as some of them may develop cognitive decline, attention deficit, brain fog, or Alzheimer's disease in the future," he said. "There is a lot we can do to promote brain healing in COVID-19 patients, but first we must understand the nature and severity of their neurological deficits. At the patient level, getting a baseline MRI before leaving the hospital is imperative so that we have a starting point to evaluate and treat them."