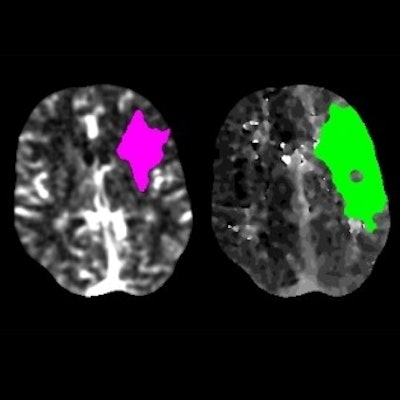 The number of patients evaluated for stroke with imaging fell by 40% during the COVID-19 outbreak, according to a research letter published May 8 in the New England Journal of Medicine. The findings could be a sign that many stroke cases are not receiving appropriate medical care.
The COVID-19 pandemic has resulted in a sharp drop in medical procedures that are not related to infection with the SARS-CoV-2 virus. In fact, a recent analysis of procedure volume in the U.S. found CT procedures down 37.5% and MRI scans down 47.4%. The decline has led observers to speculate that some patients may not be receiving medically indicated care.
In the case of stroke, nearly 800,000 cases occur each year in the U.S., with the condition being the fifth leading cause of death and the leading cause of disability in the country. Recent advances in stroke care -- with many new interventions being performed under imaging guidance -- have improved the odds that individuals will survive a stroke. But many of these interventions must be performed within 24 hours of stroke onset.
To analyze whether stroke care has suffered during COVID-19, researchers from Washington University School of Medicine in St. Louis analyzed the number of stroke evaluations at 856 hospitals across the U.S. The lead author on the study was Dr. Akash Kansagra of the university's Mallinckrodt Institute of Radiology (May 8, 2020, NEJM).
As a surrogate for the number of stroke evaluations being performed, the researchers measured the number of scans analyzed using the Rapid software from iSchemaView. The software is often used to select stroke patients who are good candidates for endovascular therapy based on occlusions of brain arteries or regions that have not been infarcted, indicating the chance of reversible ischemia.
Kansagra and colleagues had access to a data repository of 231,753 patients whose scans were analyzed with the Rapid software, and they calculated the number of scans performed on a daily basis from July 2019 through April 27, 2020. In particular, they compared daily use of Rapid during a 29-day period before the pandemic in February 2020 with a 14-day period from March 26 to April 8.
They found that at its lowest point, the number of patients who received stroke imaging fell from 1.18 patients per day per hospital before the pandemic to 0.72 patients per day -- a decline of 39%. The declines in stroke evaluations were seen across age, sex, and stroke severity groups, as well as across various states and at hospitals with different procedure volumes.
The researchers said the findings could have disturbing implications given stroke's impact on patient morbidity if not treated quickly.
"Any decrease in care for patients with acute conditions such as ischemic stroke may be consequential because timely treatment may decrease the incidence of disability," they wrote.