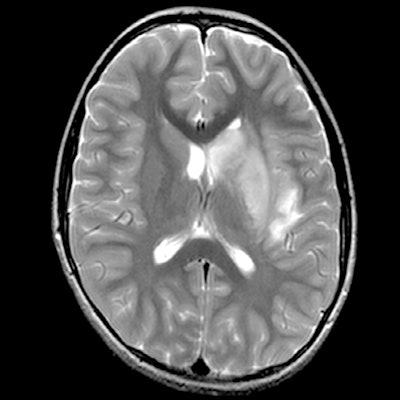 A team of researchers from Iran on June 2 published a case study in Radiology that describes incidence of stroke in a child with COVID-19. The case addresses the knowledge gap regarding how SARS-CoV-2 enters the central nervous system and affects the brain.
"The neuroinvasive mechanism of SARS-CoV-2 is not fully understood," wrote a team led by Dr. Seyed Mohammad Mousavi Mirzaee of Razi Hospital of Birjand in Iran. "Neurologic manifestations in COVID-19 pediatric patients have uncommonly been reported. We [present] a presumptive case of ischemic stroke due to focal cerebral arteriopathy (FCA) associated with COVID-19."
A previously healthy 12-year-old boy with seizures was admitted to Razi Hospital; he was treated with diazepam. Soon after, he developed right-side paralysis and slurred speech. He had no history of fever, cough, shortness of breath, rash, or recent trauma, and no one in his family had a history of COVID-19 disease. He tested negative for herpes simplex virus 1 and 2 and varicella-zoster virus.
"There were no symptoms of other systems involvement, cervical enlarged lymph nodes, cutaneous or mucosal rash, or redness," the team wrote.
The child was diagnosed with COVID-19 disease via reverse transcription polymerase chain reaction (RT-PCR) testing; cerebrospinal fluid testing also produced positive results for SARS-CoV-2. Although a low-dose lung CT exam, a carotid color Doppler ultrasound, and echocardiography were all normal, MRI showed findings suggesting stroke.
There are many reasons for stroke in children, ranging from "arterial dissection, embolic or thrombotic stroke, cerebral vasculitis in the context of systemic disease (including Kawasaki disease), and genetic disorders with arteriopathy," Mirzaee and colleagues wrote. Yet their best diagnosis was that the child's stroke had been caused by focal cerebral arteriopathy.
"Based on the patient's history and lack of thrombotic processes outside the central nervous system, embolic stroke, and dissection were considered less likely than FCA," the group wrote. "There was no evidence to suggest a multisystem inflammatory syndrome or Kawasaki-like presentation, as the patient did not show any of the classical clinical physical findings. The lumbar puncture cerebrospinal fluid was not inflammatory."
The child has been discharged and is at home undergoing rehabilitation, but he continues to have right-side paralysis, according to the team.