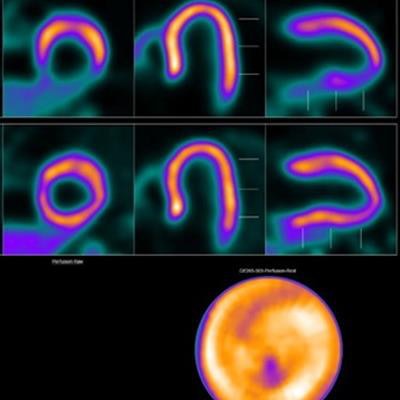 A clinical trial of F-18 flurpiridaz PET for detecting coronary artery disease (CAD) met a key outcome by showing effectiveness in obese patients, according to a talk at the Society of Nuclear Medicine and Molecular Imaging (SNMMI) annual meeting.
Researchers led by Krishna Patel, MD, of the Icahn School of Medicine at Mount Sinai in New York, performed a subgroup analysis of previous phase III study results specifically in obese patients.
"Our research shows that F-18 flurpiridaz stress cardiac PET imaging is excellent for diagnosing significant coronary artery disease even in obese patients, and at a lower radiation dose than traditional Tc-99m SPECT [myocardial perfusion imaging]," Patel noted, in a June 27 session.
SPECT MPI using Tc-99m sestamibi or other tracers is a common imaging approach in patients with suspected CAD, yet it is vulnerable to artifacts associated with soft-tissue attenuation, reduced image quality, and suboptimal sensitivity, Patel explained.
Conversely, F-18 flurpiridaz PET has proven to be more specific, as the tracer binds to key enzymes in the heart involved in its ability to contract and relax, with abnormal uptake of the radiotracer indicating potential CAD due to blocked arteries.
In phase III study results presented last year, F-18 flurpiridaz PET met the trial's primary endpoints by exceeding a 60% threshold for sensitivity and specificity for detecting CAD in all participants compared to Tc-99m SPECT MPI. With obese patients at a significantly higher risk for CAD, the study was designed with an assessment in these patients as a secondary endpoint.
"This study reports a prespecified subgroup analysis of obese subjects," Patel said.
Out of 604 participants in the trial, 298 (51.6%) were classified as obese, with a mean body mass index (BMI) of 35.8 kg/m2. Patients had undergone one-day rest-stress F-18 flurpiridaz PET or one- or two-day rest-stress Tc-99m-SPECT MPI exams. Images were read by three experts, with the sensitivity and specificity of the two approaches then compared in the obese group.
Performance by modality in obese patients
Tc-99m SPECT MPI
F-18 flurpiridaz PET
Sensitivity
63.8%
80.3%
Specificity
61.7%
63.8%
Radiation exposure
12.4 mSv
6.2 mSv
Ultimately, Patel noted that while this and other studies have shown PET perfusion imaging is the best noninvasive imaging modality for CAD, its use is limited due to the significant investment required in radionuclide generators to produce radiotracers like F-18 flurpiridaz. Thus, eventual availability of a unit dose could be a game-changer in caring for patients, she noted.
"With availability as a unit dose, F-18 flurpiridaz can disrupt this space, as suddenly now most – if not all -- centers that offer PET for oncology can now perform stress perfusion studies," Patel concluded.
F-18 flurpiridaz was developed by Lantheus Medical Imaging, with first tests in humans performed in 2010. In 2017, Lantheus and GE HealthCare inked a licensing deal to develop and commercialize the PET tracer.