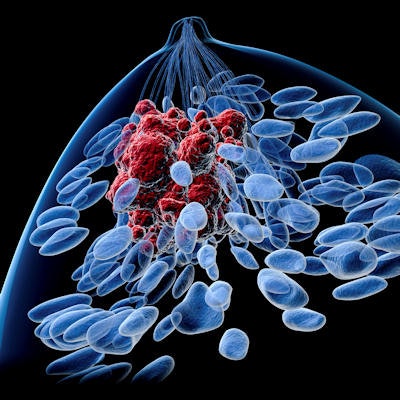 F-18 FDG-PET/CT imaging appears to be a better predictor of survival than contrast-enhanced CT for monitoring patients with metastatic breast cancer, according to a study published April 5 in Scientific Reports.
The finding suggests that increasing the use of F-18 FDG-PET/CT in these cases could ultimately improve care for patients, wrote lead author Dr. Marianne Vogsen, PhD, of Odense University in Denmark, and colleagues.
"More sensitive imaging such as F-18 FDG-PET/CT may have the potential to improve clinical decision-making, optimize the timing of treatment alterations, and avoid treating patients with ineffective toxic and expensive treatments," the group wrote.
While metastatic breast cancer is an incurable disease, effective treatments have increased survival and rendered it a chronic disease, according to the authors. Monitoring the effects of treatment is important to ensure that the treatment remains effective or, if not, to allow a rapid change in treatment, they wrote.
Conventional contrast-enhanced CT (CE-CT) is the most commonly used approach in daily clinical practice and clinical trials, yet preliminary studies suggest that F-18 FDG-PET/CT may also be an effective approach.
"We still need prospective studies comparing F-18 FDG-PET/CT with CE-CT for the prediction of progression-free survival and disease-specific survival," the authors noted.
Thus, in this prospective observational study, the researchers analyzed data on 87 women from previous studies who underwent simultaneous F-18 FDG-PET/CT and CE-CT imaging to diagnose metastatic breast cancer. Patients underwent scans before initiating first-line treatment, with scans also performed simultaneously at each follow-up visit. Importantly, this simultaneous imaging allowed participants to serve as their own controls, the authors noted.
The researchers categorized patients as responders (partial or complete response to treatment) and non-responders (stable or progressive disease) using standardized criteria for PET and CT in solid tumors.
Most patients received endocrine therapy with or without cyclin-dependent kinase 4/6 inhibitor as first-line therapy. According to the baseline scan, 74.7% of the patients had bone metastases. The median follow-up time was 36.1 months. The median progression-free survival for patients was 23.5 months and median disease-free survival was 43.2 months.
An analysis of follow-up scans showed that tumor response was accurately identified more often in patients by F-18 FDG-PET/CT than CE-CT, with only fair agreement between the approaches. In addition, tumor response on F-18 FDG-PET/CT scans was significantly associated with progression-free (hazard ratio, 3.49; p < 0.001) and disease-specific survival (hazard ratio, 2.35; p = 0.008), while no association was found for tumor response on CE-CT, according to the findings.
"We found F-18 FDG-PET/CT to be a better predictor of progression-free and disease-specific survival than CE-CT when used to monitor treatment effects in women with metastatic breast cancer," the group wrote.
Strengths of the present study include its prospective design, where treatment effect was monitored in patients from daily clinical practice, according to the authors. In addition, patients served as their own control, with a unique opportunity to compare scan results within the same patients, they wrote.
Nonetheless, the single-center observational design of the study limits its generalizability and falls short of answering questions regarding whether the approach can be used to evaluate improvements in quality of life, they noted.
"The question can only be answered by a multi-center randomized controlled trial and is the perspective for future research," the group concluded.