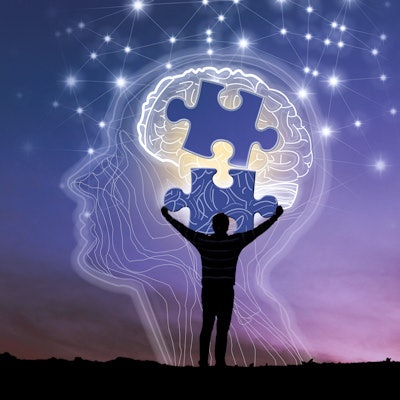 Researchers have identified sex-specific risk factors that may explain why some cognitively unimpaired women have higher brain pathology linked to Alzheimer's disease (AD), according to a study published April 3 in JAMA Neurology.
An international group investigated the extent to which sex, age at menopause, and hormone therapy use were associated with brain tau protein deposits on PET scans compared with men. They found higher brain pathology in women was linked to earlier age at menopause and late use of hormone therapy.
"The findings of the present study may inform AD risk discussions relating to female reproductive health and treatment," wrote lead author Gillian Coughlan, PhD, of Harvard Medical School, and colleagues. "Female individuals who experience younger age at menopause may represent a subgroup for priority inclusion in AD prevention trials."
Postmenopausal females represent around 70% of all individuals with AD. Tau PET and amyloid PET scans are two approaches for diagnosing the disease, based on the visualization of brain tau protein tangles and amyloid deposits, which are linked to neurodegeneration.
Previous literature has shown elevated levels of tau protein in cognitively unimpaired postmenopausal females compared with age-matched males, particularly in the presence of abnormal beta-amyloid deposits, yet the biological mechanisms for this pathology in women remain elusive, the authors explained.
To elucidate these associations, the group analyzed data on 292 cognitively unimpaired individuals (193 women and 99 men) previously enrolled in an Alzheimer's disease patient registry who had undergone at least one tau PET or amyloid PET scan. Data included details on women who experienced premature menopause (menopause at younger than 40 years), early menopause (menopause at age 40-45), and regular menopause (menopause at older than 45) and hormone therapy (HT) use.
According to the analysis, female sex, earlier age at menopause, and HT use were associated with higher regional tau PET in individuals with elevated beta-amyloid compared with male sex, later age at menopause, and HT nonuse.
Specifically, affected regions included the medial and lateral regions of the temporal and occipital lobes, regions believed to be associated with memory loss in Alzheimer's disease. In addition, late initiation of HT (> 5 years following age at menopause) was associated with higher tau PET compared with early initiation, the group reported.
"Earlier age at menopause and the late initiation of HT following menopause onset may be important sex-specific risk factors that underlie sex differences in tau deposition," the researchers wrote.
Ultimately, sex differences in incidence rates for AD dementia are somewhat controversial, although studies report greater risk for female individuals older than 80 and that prevalence is undoubtedly higher for females, the researchers noted.
"Clinical trials to assess the potential implications of HT timing on tau deposition are also warranted," the group concluded.