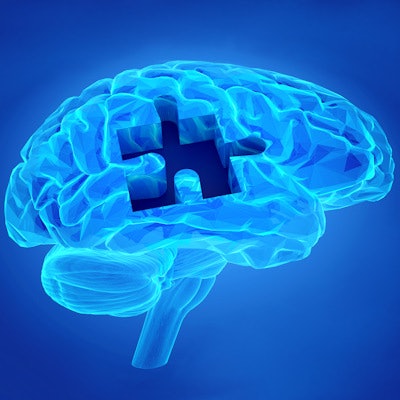 Brain PET imaging shows that women with higher tau pathology in the temporal lobe have worse cognitive performance than men, according to a study published August 28 in Alzheimer's and Dementia.
A group led by Xin Wang, of the University of California, San Diego, analyzed PET imaging from cognitively unimpaired patients and found that women with higher F-18 flortaucipir (Tauvid) PET uptake values performed worse than men on standard cognitive tests.
"These findings have important implications for sex-specific tau-targeted preventive [Alzheimer's disease] clinical trials or trials with tau or cognition as outcomes," the group wrote.
Sex differences in Alzheimer's disease are widely recognized. Women have a higher prevalence of the disease compared to men, even when differences in longevity are considered, yet little is known about how these associations differ by sex in preclinical disease, the authors explained.
To further explore these relationships, the researchers culled data from 343 cognitively unimpaired, beta amyloid-positive individuals (205 women, 138 men). The participants self-identified as non-Hispanic white and had previously participated in the Anti-Amyloid Treatment in Asymptomatic Alzheimer's (A4) study, an ongoing prevention trial in four countries: Australia, Canada, Japan, and the U.S.
In the A4 study, participants completed cognitive tests at their first visit as well as amyloid PET scans to establish whether they were qualified for the trial. They underwent cognitive tests again on their third visit, while tau PET scans were acquired on their fourth visit on average at least three months later.
In this study, the authors analyzed tau PET deposits in a composite "meta-temporal region" that included the entorhinal, amygdala, fusiform, inferior temporal, and middle temporal regions -- key regions affected by the disease. Standardized uptake value ratios based on radiotracer uptake were used to quantify tau levels, with these then compared among the group based on sex and performance on the cognitive tests.
Among the highlights of the findings were the following:
The tau PET signal in the meta-temporal region was associated with poor cognitive performance in preclinical Alzheimer's disease.
After sex stratification, the associations between regional tau PET and cognitive outcomes were observed only in women.
The associations between tau PET and some cognitive outcomes were independent of apolipoprotein E (APOE) e4 (genetic susceptibility).
"Our results suggest that there are sex differences in the associations between tau pathology and cognition in early [Alzheimer's disease]. Women with higher amounts of tau in the meta-temporal region showed poorer cognitive performance," the researchers wrote.
The authors noted limitations to their research, namely that participants of this study were restricted to non-Hispanic white individuals, which does not generalize to the overall population. Going forward, research should explore whether these findings apply to other populations, they wrote.
"Future studies with larger sample sizes are needed to confirm these findings," the group concluded.
The full article is available here.