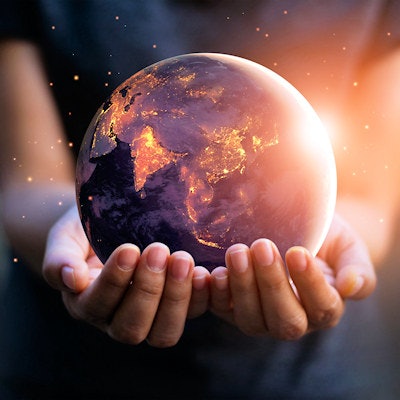 Radiology departments can help prevent climate change by turning off idle imaging scanners and workstations during off hours, according to a March 2 presentation at ECR 2023 in Vienna.
Dr. Manfred Meyer of University Hospital Basel, Switzerland, discussed the implementation of a live dashboard in his department that allows them to monitor the network status of imaging modalities and PC workstations. By identifying and turning off idle devices, they are saving significant energy, he said.
"The estimated yearly savings of this intervention are as much as 14 four-person households," Meyer said.
Radiology departments consume large amounts of energy, with a single CT scanner consuming as much energy over a year as five four-person households, Meyer noted. Yet more than two-thirds of that energy is spent when the scanner is in an idle state, he said.
In this ongoing study, the researchers show that significant energy and cost savings can be gained just by reminding staff to turn off idle devices, Meyer said.
About 60 medical imaging systems are in operation in their department, including five CT, six MRI, two PET/CT, 12 radiography, four angiography, and seven ultrasound machines, Meyer said. Additionally, the department runs 80 PACS workstations for diagnostic reading, 165 PCs, six monitors/smart PCs, and 53 printers.
The researchers began monitoring the status of these devices over their network by setting up "ping echo requests" to signal the connectivity of devices in 15-minute intervals. The Python script they used (freely available on GitHub, Meyer noted) allows them to view the status of devices on a live dashboard.
The group announced the project in October 2022 to the department with a request that staff turn off devices during off hours. They then tracked and analyzed data for changes in behavior, as well as identified constantly running machines.
In two weeks, the total number of PACS workstations and PCs running during off hours dropped from about 40 to 20 and the number of machines running during off hours dropped from above 10 to about four, Meyer said.
In one example, he noted that the department's two PET/CT scanners at first weren't being turned off. Once this change was made, as well as turning them off during evenings, they have saved more than 2,300 kilowatt hours of energy in the last four months, Meyer said.
"This is equivalent to more than $500 in energy costs and more than 300 kilograms of CO2 emissions," he said.
Calculating savings for all devices, the group estimates a savings of more than 70,000 kilowatt hours of energy every year. This is equivalent to a savings of more than $20,000 in energy costs and a reduction of more than nine metric tons of CO2 emission, Meyer said.
"In the future, we'd like to implement this method in other departments and hospitals and maybe even other industries, as we think there's a huge energy saving potential in this," he concluded.