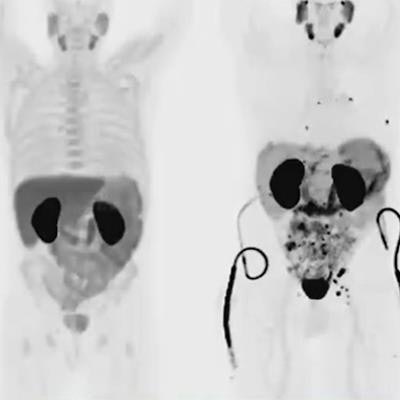 CHICAGO - Gallium-68 (Ga-68) prostate-specific membrane antigen (PSMA) imaging detected more lesions in prostate cancer patients than previous approaches and changed management decisions in a majority of patients, according to research presented at RSNA 2022.
During a nuclear medicine and molecular imaging scientific session, diagnostic radiologist Dr. Hiroaki Takahashi of the Mayo Clinic in Rochester, MN, discussed a clinical trial in prostate cancer patients to explore the impact of Ga-68 PSMA imaging. Results suggest the approach improved management in more than 70% of patients, he said.
"PSMA-PET/CT and PSMA-PET/MRI have a significant impact on guiding the proper management of the majority of prostate cancer patients in multiple scenarios, regardless of the availability of other advanced imaging," Takahashi told attendees.
Prostate cancer is the most common malignancy in men in the U.S. The U.S. Food and Drug Administration has approved two PSMA radiotracers for imaging in these patients: Ga-68 PSMA-11 and F-18 DCFPyL (Pylarify, Lantheus Medical Imaging). While previous studies have shown Pylarify can significantly improve treatment decisions in these patients, studies are sparse using Ga-68 PSMA, Takahashi said.
In this study, the group enrolled 243 patients referred to their center for either initial staging (untreated high-risk prostate cancer) or for restaging (biochemically recurrent disease). Referring providers were asked to complete a survey specifying therapy that was planned before and after receiving the results of PSMA-PET/CT or PET/MRI scans. Patient charts were reviewed to identify the imaging results and any previous imaging, specifically conventional choline-11 (C-11) PET/CT, performed within one year prior to the PSMA scan.
Ga-68 PSMA-11 imaging was performed for biochemically recurrent prostate cancer in 221 patients and for untreated high-risk cancer in 22 patients. The approach changed management for 76.5% (169 out of 221) of patients with biochemically recurrent disease and for 45.5% (10 out of 22) patients with high-risk prostate cancer, according to the findings.
Therapies pursued significantly more frequently after PSMA-PET than initially planned before PSMA-PET included radiation of retroperitoneal lymph nodes (p = 0.016), focused stereotactic body radiation therapy for oligometastatic disease (p < 0.001), taxane-based chemotherapy (p = 0.001), and lutetium-177 DOTATATE (Lutathera, Novartis).
In addition, Ga-68 PSMA-PET showed significantly higher lesion detection than prior choline PET/CT in lymph nodes (p = 0.002), bones (p < 0.001), and other sites of metastatic disease (p = 0.043), Takahashi said.
Ultimately, judicious use of Ga-68 PSMA-PET imaging likely benefits patients, Takahashi suggested.
"Our study showed that PSMA-PET resulted in change of management in 73.7% of patients in a quaternary practice where other advanced imaging is widely available," he concluded.