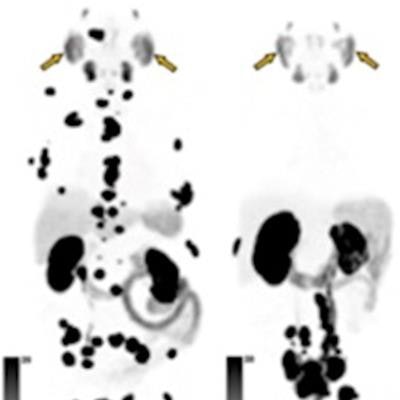 A recent study highlighted by the Society for Nuclear Medicine and Molecular Imaging (SNMMI) presents a new PET scoring system for predicting whether prostate cancer patients will respond to treatment with lutetium-177 (Lu-177) prostate-specific membrane antigen (PSMA) -617.
"Identification of patients who will likely benefit from PSMA-targeted radiopharmaceutical therapy remains an unmet clinical need," said first author Dr. Masatoshi Hotta, PhD, in a news release from SNMMI. The study was published March 30 in the Journal of Nuclear Medicine.
In the study, the researchers created a quantitative PSMA-PET tumor-to-salivary gland ratio (qPSG) score based on imaging in 237 men. They then interpreted the scans and assigned a visual PSG score (vPSG) based on the data. When they tested the scores in patients receiving lutetium-177 PSMA-617, patients with high qPSG and vPSG scores had longer progression-free survival and longer overall survival, according to the findings.
Ultimately, the findings could be valuable in advancing precision medicine in the emerging field of theranostics, the researchers said.