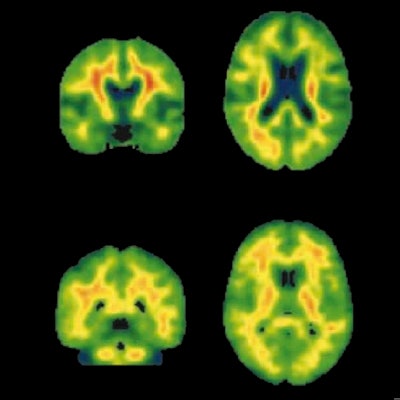 PET scans can detect early signs of Alzheimer's disease long before other biomarkers, a study published August 22 in JAMA Neurology has found. The discovery could mean research studies for drugs to treat Alzheimer's should start at an earlier stage.
A group in Montreal, Quebec studied amyloid PET radiotracer activity in PET brain scans of a large group of Alzheimer's disease patients enrolled in clinical trials. The team found significant early activity in most patients who were considered negative for the disease and suggests moving the starting gate when it comes to testing new drugs.
"Assessment of spatial [beta-amyloid] burden may be a powerful method for identification of candidates well suited to clinical trials for prevention of [Alzheimer's disease] progression," wrote co-first authors Hazal Ozlen and Alexa Binette, PhD, of McGill University's Douglas Mental Health University Institute, and colleagues.
Amyloid deposits and tau protein neurofibrillary tangles are the pathological hallmarks of Alzheimer's disease. The Depositing of these proteins is a continuous process that starts decades before the onset of symptoms.
While abnormal tau activity may occasionally precede amyloid accumulation, it is widely thought that amyloid pathology is required for tau to spread beyond the brain's medial temporal lobe and begin the cascade that leads to dementia.
Thus, early abnormal beta-amyloid brain pathology is viewed as an ideal target for new drugs. Yet so far, trials have shown that reducing amyloid brain deposits does not slow clinical symptoms, and these results have raised questions about the role of amyloid in the cascade of Alzheimer's disease pathology, according to the authors.
"It also may be that [beta-amyloid] should be targeted early on, before the spread of tau pathology," the authors suggest.
Thus, in this study, the group focused on cognitively unimpaired older adults to investigate the earliest timing when a biologically relevant signal of amyloid PET pathology could be detected.
The researchers analyzed imaging from 817 older adults from three different cohorts (mean ages of 63.5, 73.6, and 73.7) used to compare amyloid-negative patients and patients diagnosed with the disease. They compared patients who were truly negative for Alzheimer's disease with patients who showed early signs of PET radiotracer binding to amyloid in seven brain areas known to be associated with the disease.
According to the results, compared with amyloid-negative participants, patients with regional amyloid PET tracer binding showed proportionately greater amyloid PET accumulation on follow-up imaging up to four years later, as well as notable cognitive decline on average seven years later.
Moreover, over time, these patients also showed greater increases in cerebral spinal fluid (CSF) phosphorylated tau-181 and tau-PET binding, two other important biomarkers used to determine the severity of Alzheimer's disease.
Importantly, all patients would have been considered negative at the time of their clinical trial participation, based on thresholds for visual interpretations of amyloid PET scans built into the trial's protocol, the authors wrote.
"Regional [beta-amyloid] binding appears to be biologically relevant and participants at this stage remain relatively free from CSF phosphorylated tau181, tau-PET binding, and related cognitive decline, making them ideal targets for anti-amyloid agents," the researchers stated.
Ultimately, one of the most common approaches in clinical trials is to analyze amyloid PET scans and classify individuals into negative and positive groups based on visual reads. But this approach may not always be optimal for identifying individuals with early abnormal amyloid levels, the authors suggest.
As a caution, however, the researchers noted that restricting trial eligibility to patients with regional brain amyloid PET pathology could prevent the use of cognitive decline as a primary outcome of preventive trials, since these individuals in this trial did not show significant cognitive decline for seven years.
"Such trials might therefore require changes in primary outcomes, such as longitudinal change in [Alzheimer's disease] biomarkers with the expectation that such changes will signal subsequent cognitive decline," the group concluded.