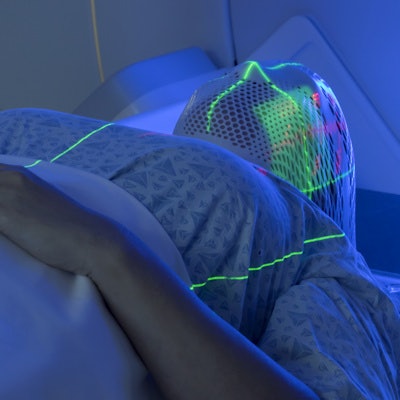 PET scans acquired before and midway through radiation therapy in patients with throat cancer can help determine whether therapy can be reduced in the second half of treatment, according to a study presented February 24 at an American Society for Radiation Oncology (ASTRO) symposium in Phoenix.
University of Michigan researchers analyzed data in 59 patients with p16-positive oropharynx cancer who underwent FDG-PET scans to determine their metabolic tumor volume before and midway through treatment. They observed significant results after deescalating patients with lower metabolic FDG activity before treatment and more than a 50% reduction in metabolic tumor volume after two weeks of treatment.
"By incorporating FDG-PET scans before and midway through treatment, we were able to adjust the radiation dose for about half of our patients and reduce their short-term side effects while still focusing on tumor control," said radiation oncology resident Dr. Steven Allen, PhD, in a release from ASTRO. He presented the results in a session at ASTRO's 2022 Multidisciplinary Head and Neck Cancers Symposium.
All of the patients were receiving concurrent weekly carboplatin/paclitaxel chemotherapy. Overall, half of the patients in the trial were de-escalated and received lower radiation doses, which resulted in approximately 25% less radiation exposure to the sensitive structures in patients' heads and necks known to be associated with side effects during treatment, Allen said.
In addition, patients in the deescalated group had significantly less weight loss during treatment (6% vs. 11% from baseline; p < 0.001), were less likely to need a feeding tube (1 vs. 7 patients; p = 0.037), and had improved swallowing function on a video swallow study administered after treatment (p = 0.036).
The trial is the first to report the use of FDG-PET as a midtreatment imaging marker to guide deescalation for p16-positive oropharynx cancer, Allen noted.
"Advanced imaging helps physicians personalize therapy based on patients' individual tumor characteristics and response to treatment," he said.