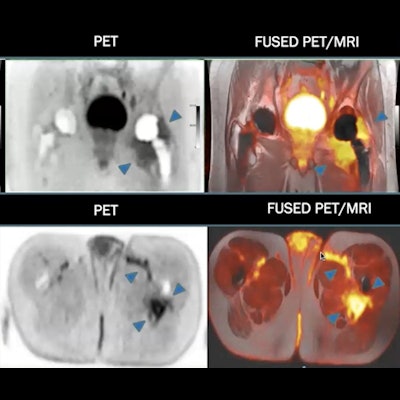 A new carbon-11-based PET radiotracer can help diagnose infection in patients with prosthetic joints, a major step toward a noninvasive method for imaging living bacteria in humans, according to research presented at the RSNA 2021 meeting in Chicago.
Researchers from the University of California, San Francisco (UCSF) investigated the biodistribution, dosimetry, and diagnostic performance of C-11 d-methionine (C-11 D-Met), a novel bacteria-specific PET radiotracer. Early results from the ongoing trial suggest the tracer is safe and shows increased focal uptake in areas of suspected chronic infection.
"C-11 D-Met PET/MR imaging is a novel imaging technique with modest radiation dose, minimal background, and no observed adverse effects," said radiology and biomedical imaging fellow Dr. Ilona Polvoy.
Currently, there is no accurate, noninvasive clinical imaging method for detecting living bacteria in patients with suspected infection. Standard imaging approaches with CT, MRI, or F-18 FDG-PET are not specific and unable to distinguish infection from mimics such as tumors or inflammation. Diagnosis typically requires a tissue biopsy, which carries some risk, Polvoy said.
Amino acid compounds such as d-methionine are promising for imaging infection. They target bacteria such as E. coli and rapidly bind to bacterial cell walls. When combined with an isotope such as C-11 and injected in patients, the tracer reveals sites of infection on PET scans.
Previously, the UCSF group showed C-11 D-Met can distinguish between active bacterial infection and sterile inflammation in mice. In this study, Polvoy and colleagues took the next step and established an effective dose in healthy volunteers, as well as tested it for the first time in patients with periprosthetic joint infection (PJI).
Six healthy volunteers between the ages of 26 and 72 years old underwent whole-body PET/MRI scans for purposes of dosimetry. Time-activity curves were used to calculate residence time for each source organ. The effective dose was estimated at 0.0040 mSv/MBq -- very low compared with FDG-PET -- with the highest activity in the urinary and hepatobiliary systems.
The tracer showed early background uptake in the liver, pancreas, and kidneys, with minimal background uptake in other organs. Importantly, the researchers observed minimal uptake in patients' gastrointestinal tract and lungs, despite a potential concern regarding uptake within the human microbiomes, Polvoy noted.
Next, three patients with suspected PJI received dynamic PET for 30 minutes targeted at the site of infection, followed by whole-body PET/MRI scans. These patients were being treated with suppressive antibiotics and had low bacterial burden but had not been definitively diagnosed.
In two of the three patients with suspected PJI, C-11 D-Met showed increased focal uptake in the area of interest in both early focused scans and delayed whole-body scans, Polvoy said.
"Targeted imaging of bacteria could have an important impact on the diagnosis and management of infections," Polvoy concluded.