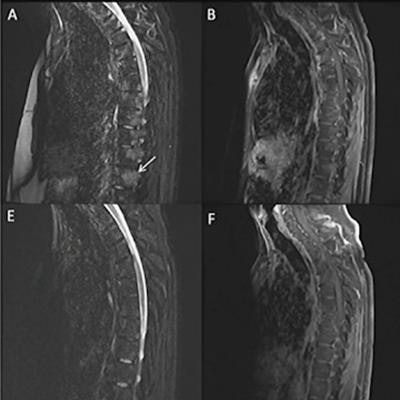 PET/MRI scans of ankylosing spondylitis patients show that tumor necrosis factor (TNF) blockers reduce the cellular bone activity driving the disease, according to research presented Thursday at RSNA 2021 in Chicago.
A German group led by diagnostic and interventional radiologist Dr. Nils-Martin Bruckmann of the University of Dusseldorf tested whether F-18 sodium fluoride PET/MRI (F-18 NaF-PET/MRI) imaging shows whether TNF blockers are effective in patients with radiographic axial spondyloarthritis (r-AxSpA). Imaging showed TNF blockers significantly reduce underlying osteoblastic activity associated with the disease.
"Therapy with TNF blockers objectively reduces osteoblastic activity in the axial skeleton already after four months," Bruckmann said.
Radiographic axial spondyloarthritis (r-AxSpA) is a chronic inflammatory rheumatic disease that affects the axial skeleton, causing severe pain, stiffness, and fatigue. The disease is characterized by new bone formation due to osteoblastic inflammatory activity. The disease typically starts in early adulthood, but it is difficult to diagnose, as symptoms can take 10 years to appear on conventional x-ray imaging.
First-line treatments include nonsteroidal anti-inflammatory drugs followed by biologics such as anti-TNF-inhibitors. Determining whether drugs are effective in the later stages of the disease would be a significant benefit in managing patients.
In this prospective proof-of-concept study, Bruckmann and colleagues enrolled 11 men and five women with clinically active r-axSpA to participate. The researchers performed F-18 NaF PET/MRI scans of the sacroiliac joint and whole spine in patients at baseline and at time points up to six months following the initiation of anti-TNF therapy.
Three independent readers evaluated all images for inflammation (bone marrow edema) and structural lesions. F-18 NaF uptake was recorded on the level of sacroiliac joint quadrants and vertebral quadrants. The researchers analyzed a total of 128 sacroiliac joint quadrants and 920 vertebral quadrants at each time point.
At baseline, F-18 NaF uptake was found in 96% of sacroiliac joint quadrants with bone marrow edema, 94.2% of quadrants with sclerosis, and 88.3% with fat lesions. Over a mean follow-up of 4.6 months, there was a significant decrease in F-18 NaF uptake, with uptake in 65.3% of sacroiliac joint quadrants with bone marrow edema, 33.8% with sclerosis, and 24.5% with fat lesions.
"These data support the early anti-inflammatory treatment initiation for prevention of radiographic progression in axSpA," Bruckmann said.
Bruckmann noted this is the first prospective study of PET/MRI to assess TNF blockers in this patient group. Results of treatment were most visible in bone sites where inflammatory activity was present, but treatment did not result in the complete disappearance of osteoblastic activity. The full effects of TNF blockers in these patients may take longer than four months to become apparent, he suggested.
"Longer-term studies are needed to see whether TNF blockers result in the complete disappearance of osteoblast activity, as well as improve long-term clinical outcomes," he concluded.