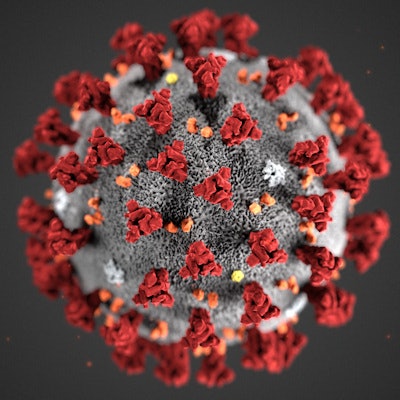 Researchers from Mount Sinai Hospital in New York City have released an overview of imaging modalities used to diagnose and manage COVID-19 pneumonia, trends to watch in artificial intelligence (AI), and a description of nonchest complications from the disease. The review was published June 1 in Radiology: Cardiothoracic Imaging.
A team led by Sayan Manna offered the following roundup in an effort to help their peers understand how best to use imaging for the disease:
Effectiveness of imaging modalities used to visualize COVID-19.
Portable chest x-ray is often the first imaging exam used for patients with suspected COVID-19. Patients positive for the disease on reverse transcription polymerase chain reaction (RT-PCR) testing may have negative chest x-rays, particularly in early disease. The modality has a lower sensitivity than RT-PCR (69% compared with up to 91%).
Chest CT is more sensitive than x-ray, at 97%, and can better identify early disease. CT can track COVID-19 lung abnormalities, find concurrent illness in patients with comorbidities, and identify pulmonary thromboembolism.
The use of MRI for COVID-19 has yet to be fully described. The modality can identify incidental findings related to the disease in pulmonary parenchyma.
There are few reports on PET/CT findings in COVID-19. Chest CT findings such as ground-glass opacities and mixed attenuation do correspond to FDG uptake, however. Going forward, the modality may be used to monitor COVID-19 treatment response, predict prognosis, and follow long-term effects of the illness.
Chest ultrasound has proven a useful tool for patient evaluation in the emergency room. Some studies have found that it has better sensitivity than chest x-ray. Ultrasound has begun to be used to diagnose blood clots and assess thrombosis risk caused by the illness.
Echocardiography has become increasingly used to evaluate COVID-19 patients for deep vein thrombosis and peripheral thrombosis.
Common chest imaging findings. Multilobar, predominantly peripheral, and basilar ground-glass and mixed attenuation opacities are the most common chest imaging findings, according to the group.
Use of AI for COVID-19 diagnosis and management. "The benefits of AI during this pandemic primarily relate to its potential for high-throughput analysis and pattern recognition of imaging findings," the team wrote. "In institutions with high disease prevalence and limited resources, the number of imaging studies requiring evaluation accumulates rapidly. Parallel AI processing of imaging can facilitate triage of patients."
COVID-19, thromboembolic risk, and imaging manifestations beyond the lungs. The disease has been shown to increase risk of venous thromboembolism, which can translate into pulmonary embolism and stroke. Additionally, COVID-19 imaging findings have been reported in the gastrointestinal tract, brain, heart, and kidneys, according to the authors. "A subgroup of patients with severe COVID-19 may develop acute necrotizing encephalopathy ... [which] is thought to be related to an intracranial cytokine storm," they wrote.
As the pandemic continues, radiologists need to understand how COVID-19 manifests, according to Manna and colleagues.
"We aim to enhance radiologists' understanding of this disease in order to help guide diagnosis and management," they concluded.