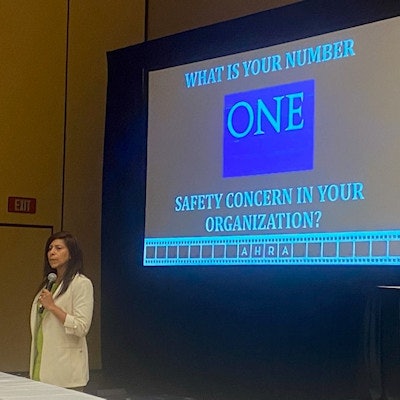 INDIANAPOLIS -- Hospitals and imaging centers are supposed to be medical safe havens for patients, but many preventable accidents still occur, according to a presentation given on July 11 at the AHRA annual meeting.
In her presentation, Nicole Dhanraj, CEO of South Texas Associates of Radiology, shared potential hazards that are present in imaging facilities every day, as well as ways to prevent accidents from happening.
"As I look around and I hear horror stories, it is concerning that someone who can come in for something minor can leave in worse shape than they came in, or, worse, never leave," Dhanraj said.
Imaging modalities, whether it be x-ray, MRI, CT, or others are on the front lines for patient health. However, when certain steps in protocols are skipped or tired hands are working the technology, accidents can occur.
Knowledge-, rule-, and skill-based errors are prevalent in imaging facilities, with several factors posing even more risk for committing errors. These include poorly designed procedures, inadequate checking of equipment, staff inexperience, task unfamiliarity, and poor human-equipment interfacing among others, according to Dhanraj. These elements, along with staff exhaustion and fatigue-related factors, could lead to accidents, such as overexposure to radiation, metal objects in the MRI room, or improper handling of patients before exams.
A 2007 report Dhanraj cited stated that 1 in 10 hospital patients could be the victim of an error or accident. Additionally, a 2018 Johns Hopkins University study reported that more than 250,000 people in the U.S. die every year from medical errors, the third leading cause of death in the U.S.
"Your car ride to the hospital is safer than being at the hospital," Dhanraj said.
Nearly a quarter decade after the report "To Err is Human" was released, Dhanraj said only "slight" improvements have been made in patient safety. And the problem back then -- good people working in bad systems -- is still prevalent today, she added.
How can imaging departments mitigate these hazards and prevent accidents from occurring? Dhanraj said achieving zero incidents involves accepting the humanity of it all.
Being vulnerable
Part of addressing the issue is openly admitting to mistakes made in the first place, Dhanraj said. Taking a page from the Shasta Nelson keynote at the AHRA meeting, Dhanraj said being vulnerable is important in this area.
It means openly discussing mistakes so that steps can be taken to address them. Often, Dhanraj said radiologists and technologists who make mistakes are either ashamed or uncaring about their errors. As for experienced radiologists, she said that they go into a lull of comfortability where they don't think about accidents happening.
"It's when we have these open, intense, dark conversations that I think we bring things home," she said. "All of these things are a result of human error."
Human factor engineering
Better systems and processes are needed for the best use of employee skills, Dhanraj said. It means fitting the job to the person and not the other way around.
"How can we make it better for them? Don't ask them to do more. See how you can best fit the job to them," she said.
She added that this "dehumanizes the human aspect," where managers do not ask employees to simply do more to increase safety but rather find what the industry can do better. This approach includes requesting that vendors improve their technologies with better safety mechanisms.
"Observe your process and see where you can put these hard stops in," Dhanraj said.
By proactively reevaluating these areas in clinical and technologist workflows, managers can change their work environment to ensure better patient safety and less employee exhaustion.
"I strongly ask all of you to see if you can reprioritize safety. Make it nonnegotiable,"prior tobefore Dhanraj said. "Please start sharing. We're here to serve our patients. Standardize your work processes."