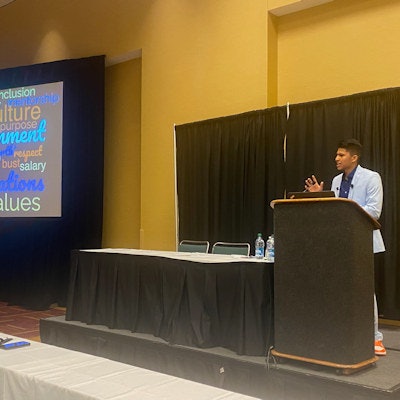 INDIANAPOLIS -- Aspiring radiologists from Generation Z (Gen-Z) are entering the workforce, and it's up to experienced managers to help guide them in their careers, according to a July 12 presentation at the AHRA annual meeting.
In his talk, Gen-Z "liaison" Avinash Dhanraj from Arizona State University discussed how managers can connect with Gen-Z professionals and overcome misconceptions of the generation.
"We want to be different. Being different makes things fun," Dhanraj said. "Of course, there's opportunities to connect with someone without trying to use vocabulary that you don't know."
TikTok, social media, no cap, rizz. It may seem like a lot of technology and no interpersonal skills all at once, but there's more than meets the eye and ear. Dhanraj said this generation, consisting of those from ages 17 to 26 in the workforce setting, has been raised with nearly unlimited access to digital content provided by social media and the internet within the palm of their hands. This means that Gen-Zers can form their own opinions and philosophies.
Along with that, Gen-Z is inheriting a world more difficult to live in, through a more difficult economic climate. While rent prices increase, hourly and salary-based wages struggle to keep up.
Finally, with social media comes instant gratification from other online users, which may be hard to translate into the workplace, radiology practices included. However, Dhanraj said, by achieving harmony over balance and setting harmful generalizations aside, radiology managers can better connect with Gen-Z employees.
Audience perceptions
A large portion of Dhanraj's talk consisted of audience members submitting questions or opinions online about where the disconnect is with Gen-Zers. Things audience members say they have seen as issues among Gen-Z coworkers and employees include guidance, more money, flexible schedules with no weekend or night shifts, and more vacations, among others.
For higher pay, Dhanraj said Gen-Zers in general believe that as they can simply search for relevant content online, experience may not be needed. For receiving input, he said that by showing respect and keeping an open mind, a connection will eventually be built.
As for perceived sensitivity to criticism, Dhanraj said that managers should communicate this in a softer manner. This doesn't mean bring out the baby talk, but rather seek to improve their skills rather than tear them down. Additionally, managers can find other ways to communicate with Gen-Zers, such as over text, he said.
"If everything you're doing is not working, that's not a Gen-Z problem. You just have someone who doesn't want to be part of the organization," Dhanraj said. "If you lead by example, they will be much less inclined to leave."
What can be done?
Dhanraj touched on four things that radiology managers can do to better connect with and understand their Gen-Z employees without overcompensating.
Set aside time and biases, and converse with Gen-Z employees and coworkers.
Cover as many bases as possible, including standards, expectations, opinions, performance, etc., on both sides.
Tailor leadership methods. This does not mean completely conforming to their lingo or style, but rather finding the middle ground between what's true to managers and what Gen-Z coworkers like.
Improve smartly, together. This means identifying and taking advantage of relevant, attainable, time-based opportunities to improve.
"This is a great example of how being respectful and showing that you are embracing the differences allows you to be a leader, our friend in the workplace," Dhanraj said.