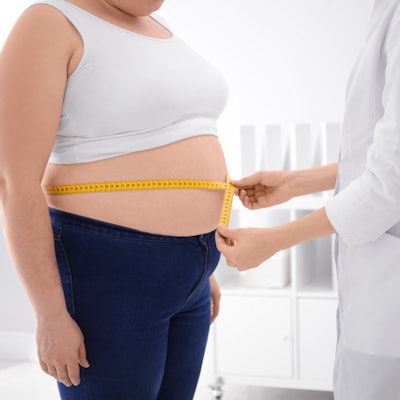 CT imaging has revealed for the first time that bone strength is lower two years after weight-loss surgery in obese young patients, according to a study in Radiology.
Researchers led by Miriam A. Bredella, MD, of Harvard Medical School in Boston, studied quantitative CT measurements of bone strength in patients between 13 and 24 years old before and two years after they underwent sleeve gastrectomy. Their findings could help clinicians manage the health of these patients after surgery.
"As bariatric surgery is increasingly performed in adolescents, its effect on bone health needs to be emphasized, especially to the physicians who will continue to provide routine medical care for these patients," Bredella said, in a news release from RSNA.
Sleeve gastrectomy removes approximately 75% to 80% of the stomach to restrict food intake and induce weight loss, with the number of procedures each year increasing from about 28,000 in 2011 to more than 122,000 in 2020, the authors noted.
CT imaging includes parameters that allow doctors to measure bone mineral density and other bone health metrics, and in this study, the researchers used the approach for the first time in adolescents and young adults to examine the long-term effects of sleeve gastrectomy.
The group enrolled 54 participants, 25 who underwent sleeve gastrectomy and 29 who were in the control group. The surgical group included participants with at least one obesity-related co-morbidity, or a body max index (BMI) at or above 40, while the control group had obesity and received dietary and exercise counseling alone.
Two years following surgery, BMI in the adolescents and young adults dropped (-11.9, on average), while there was a slight rise in BMI in the control group (+1.5, on average). Yet compared with the controls, sleeve gastrectomy patients had a significant increase in bone marrow fat and a decrease in bone density and strength estimates in the lumbar spine, according to the results.
"We found that bone strength was lower two years after weight-loss surgery, while bone marrow fat, a marker of bone weakening, was increased, suggesting that weight-loss surgery has negative effects on bone health," Bredella said.
Ultimately, childhood obesity is on the rise, and weight-loss surgery is among the most effective ways to reduce weight and improve cardiometabolic comorbidities, the authors added. This study raises awareness of the importance of bone health in these patients after surgery, they wrote.
"Our observed effects of weight-loss surgery on bone strength and bone marrow fat might also identify new targets for novel therapies," Bredella and colleagues concluded.
The study was published online June 13 in Radiology.