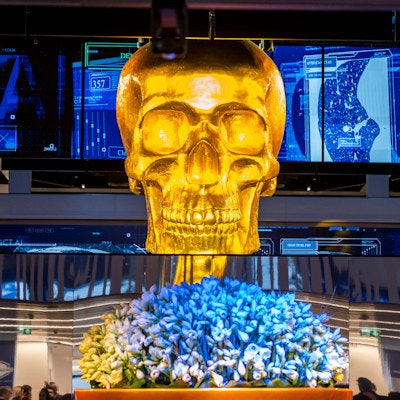 Official figures released by the European Society of Radiology (ESR) show that 17,262 participants from 122 countries attended ECR 2023. This represents a rise of 14% compared with last year, but it is still a much lower figure than was recorded in 2019.
There were 11,004 professional attendees and 6,258 industry representatives at ECR 2023, but the ESR did not specify how many of these delegates attended virtually.
Italy accounted for the largest number of registrations (1,041), followed by Germany (785), U.K. (633), Austria (595), Spain (515), Netherlands (416), Switzerland (389), Romania (372), France (336), Poland (295), Belgium (286), Denmark (247), USA (246), Sweden (238), China (236), Portugal (214), and Norway (205).
In the wake of the huge earthquake that hit Turkey and Syria on 6 February 2023, it was impressive that Turkey was responsible for 187 ECR registrations, although it is unclear how many of these attended virtually.
Ukraine accounted for 115 registrations, while 66 delegates came from the Russian Federation. A total of 171 registrants came from Ireland, one of the host countries.
ECR 2022 was held in July, and it attracted 10,093 professional attendees and 4,987 industry representatives, making a total attendance both online and in-person of 15,080. That compares with 14,776 professional and 981 industry attendees, totaling 15,757 at the online-only edition of ECR 2021.
The last in-person meeting, ECR 2019, saw 14,602 professional attendees and 8,637 industry representatives, for a total attendance of 23,239.
"After all the disruptions to lives in recent years, it was wonderful to see the halls and rooms of the Austria Center crowded with busy, enthusiastic, happy attendees," said ECR 2023 President Dr. Adrian Brady from Cork, Ireland.
"Onsite feedback from Congress participants was very positive, and watching attendees, I sensed that the future of radiology is in excellent hands, with young colleagues ready to continue the success and constantly increasing clinical relevance of and delivery of value by our specialty," he added.
The industry exhibition featured over 250 of the world's biggest companies in medical imaging. With a more integrated approach, involving many companies taking space within the main halls of the Austria Center, the industry presented state-of-the-art technology and services, and held numerous interactive demonstrations, informative sessions, and social events for attendees.
Below is a list of our top 10 articles and videos from ECR 2023 in terms of member traffic: