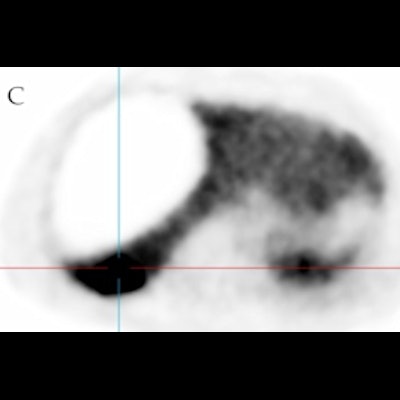 Prostate-specific membrane antigen (PSMA) PET/CT appears equivalent to MRI and better than CT in diagnosing liver tumors in patients undergoing surveillance imaging, according to a group of Australian researchers.
A team led by Dr. Veronica Wong at the University of Sydney compared gallium-68 (Ga-68) PSMA-11 PET/CT to standard surveillance imaging with MRI and CT in patients with suspected or treated hepatocellular carcinoma (HCC) and found that PSMA-PET/CT scans could help diagnose patients when other imaging tests are unclear. The study results were published January 13 in Tomography.
"PSMA-PET/CT was just as sensitive as MRI in the detection of HCC and superior to CT," the group reported.
HCC is the most common primary liver cancer worldwide and has a five-year survival rate of 18%. Early diagnosis of new or recurrent disease in at-risk patients provides the best opportunity for effective treatment and improves long-term disease-free survival, according to Wong and colleagues. MRI with gadoxetate disodium (Eovist, Bayer) is considered the gold standard for imaging for HCC, but anatomic imaging may be limited by atypical imaging characteristics, reduced resolution in small lesions, and is complicated in patients with significant liver cirrhosis, the team noted.
In this study, the researchers hypothesized that a molecular imaging approach using Ga-68 PSMA-11 PET/CT would improve the detection of liver tumors. They recruited 19 patients undergoing routine surveillance between October 2019 and October 2020 at a high-risk liver clinic. Twelve patients had known HCC under surveillance and seven patients had a suspected new diagnosis of HCC. All patients had established early-stage cirrhosis.
In addition to routine surveillance imaging by MRI and CT, patients underwent a PSMA-PET/CT scan. The investigators compared sensitivity, specificity, positive predictive value (PPV), and negative predictive value (NPV) among the modalities over a 12-month follow-up period.
They found that PSMA-PET/CT had similar efficacy to MRI and was superior to contrast-enhanced CT for the detection of HCC.
Comparison of screening modalities in patients with HCC
Measure
MRI
CT
PSMA-PET/CT
Sensitivity
87%
32%
91%
Specificity
73%
100%
70%
PPV
76%
100%
71%
NPV
86%
64%
90%
In addition, PSMA-PET/CT detected four lesions that were not found on MRI and CT, leading to significant earlier management in four of the 19 patients (21%), the researchers reported.
Ultimately, the strength of the study was its real-world setting, Wong's group explained. Future studies are underway, including phase II studies that may shed more light on the utility of PSMA-PET for detecting HCC.
"PSMA-PET/CT may serve as a confirmatory test when results are equivocal from conventional imaging, allowing for earlier diagnosis and improved management for HCC," the team concluded.